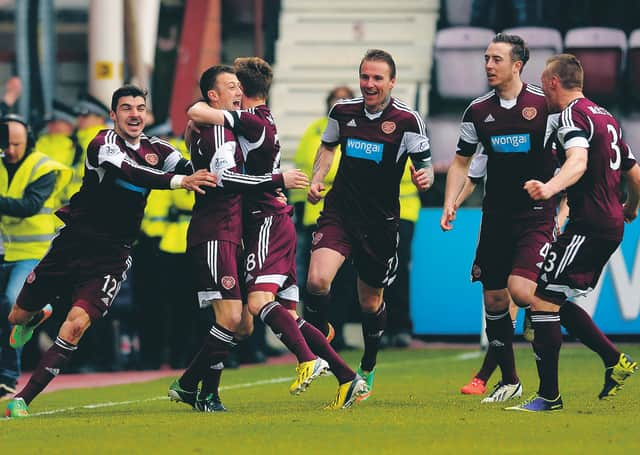 Hearts celebrate after Dale Carrick (2nd from left) opens the scoring against Hibs in the so-called 'relegation derby' in 2014. Picture: SNS
Decked out in party hats and bearing inflatables and party poppers, Hibernian fans arrived at Tynecastle on 30 March, 2014 in jubilant and expectant mood. They had turned up for what they thought would be Hearts' relegation party but they left trying to rid themselves of the gnawing feeling that they may just have inadvertently rsvp'd to an invitation to join their rivals in the second tier.
Forced to start the season with the dual constraints of a 15-point deduction due to administration and the accompanying financial encumberances which saw them operating with a predominantly inexperienced group of academy graduates, the Gorgie club were on the brink; and revelling in the opportunity the fixture list had afforded them to seal their rivals' fate, Hibs fans had billed the match a relegation party, with their ticket allocation snapped up in no time.
"Tell me about it, I got all the invites!" says Gary Locke, the self-confessed Hearts diehard, former player, captain and coach, the man at the managerial helm throughout that tortuous season for the Tynecastle outfit.
"I knew what was being said and we also knew at that stage that it was likely we were going to get relegated but we really didn't want to be relegated by Hibs. They are our biggest rivals and we knew if that happened we would never hear the end of it."
But that worked in the home side's favour.
"Basically the Hibs fans did my team talk for me that day. I just went into the dressing room with one of the many invitations that had been sent and said: 'Right lads, if you want this to happen, go out there and get beat. If not, you know what to do'.
"The boys had actually done really well in that fixture that season, much to our surprise, if I'm totally honest. Hibs had a lot more experienced players than we had but our boys always seemed to rise to the occasion and the game worked out absolutely perfectly for us.
"The pleasing thing was going out and seeing their fans all dressed up [with sombreros, inflatables and party hats etc] throwing beach balls and balloons about the Hibs end and then beating them. It was fantastic because it also kept them near the bottom of the table as well."
Hearts took the early lead, with Dale Carrick stabbing home the opener in just the seventh minute and Hibs huffed and puffed and even got the ball in the back of the net when Jordon Forster headed home but his second-half equaliser was wrongly chalked off for offside and when Alan Maybury was sent off in the 90th minute, Billy King then settled matters three minutes into stoppage time, making the most of a through ball from Ryan Stevenson to net his first goal for the club and definitively pop Hibs' balloon.
Locke's men lived to fight another day, another two games in fact, before the trap door opened and they were officially relegated. But Hibs slipped to within six points of the play-off place and, picking up just six points in their remaining six games, the Leith side could not arrest that decline.
"That was actually part of my team talk when we went down to Easter Road just a few weeks after that. I told the boys: 'Remember that day they came to Tynecastle to relegate you, well I firmly believe that if we beat them today then it will be such a psychological blow for them that they could be dragged into the relegation battle and you could help relegate them'."
But back to 30 March and the tension of that game. In the stands it was palpable. A Hearts support who had been put through the wringer in a season Locke describes as "emotionally and physically draining". The updates from the administrators doling out bigger blows than their Premiership opponents could muster.
"It was by far the hardest time I have known in football. I had plenty of sleepless nights through it all but, surprisingly, not in the build up to that game.
"The build up to the game was like it always is for a derby, especially if you are local. Everywhere I went, I either got 'We can't get beat in this game', 'You can't let them relegate us' or it was the odd Hibby shouting 'You're going down!'. It was all that kind of stuff. But you use all that to your advantage and I just tried to make sure, alongside Billy Brown, that the team was organised. Make sure they all knew what they were doing and they all knew the magnitude of the game because that was hammered home every day.
"Look, no-one needs to get me up for a derby game and I was well aware of what was at stake but, to be honest and as stupid as it sounds, I was quite relaxed about it. I was thinking, you know what, it has been a really difficult season, and I felt things couldn't get any harder for me after everything we had been through. We didn't want to get beat in that game, that was for sure but I had seen signs that a lot of the boys were really, really improving. Most of them were young guys but, physically they were looking a lot better, and although I knew that some of them weren't quite good enough to play at that level I had seen them all improving and we had gained some confidence.
"A lot of them had come through the ranks as well so they understood the derby rivalry because it had been drilled into them from U14s, maybe even before and I think that did count for a lot that day."
Although, they had also banked the self-assurance that comes from previous head-to-head wins.
"Yeah, we actually did well against them that season. We had already beaten them in the league and the League Cup before they turned up at our place expecting to relegate us. I think you can see by my reaction at the end of the game just how happy I was that we didn't let them do that."
Fists pumping the air and an outburst of emotions that built up throughout a season where, like so many at the club, he had been faced with the unthinkable and asked to perform the impossible. On that day, he pulled it off.
"I looked round at my dad and family and friends who were in behind the Hibs dug-out and you could see how much that result meant to us all. Although, to be fair, in the end, I don't think the Hibs fans thought much of the party!"