It all revolves around Steven Humphrys. The song's emergence comes with the growing influence of the on loan forward who appeared a stop-gap recruit. The 25-year-old arrived at the end of the summer transfer window on loan from Wigan Athletic following an injury to Liam Boyce. There was the inauspicious beginnings, pitched in at Livingston, a game Hearts would lose 1-0.
It didn't take long for the forward to endear himself to the Tynecastle Park faithful. You could look to the goal against Fiorentina, giving the fans one of the most memorable moments on the European journey. But it was the way he carries himself. Socks down, shin guards the size of a sim card, he bustles, engages, antagonises. He runs and runs. He plays in the manner the crowd would if they wore the maroon and white. Goals and assists against Hibs, plus the sheer enjoyment he took from beating the clubs city rivals, didn't do any harm.
Then came the goal against Dundee United in the 3-1 win. Words cannot do it justice. If he was on the verge of becoming a cult hero at the club beforehand, he fully earned that place with the strike from his own half. With it came another airing of the song. His song. 'Singing do a diddy diddy dum diddy do, running past defenders scoring one or two. He looks good, he looks fine, Stephen Humphreys on my mind and he's Gorgie's 29.'
'Indescribable feeling'
"I don't know all the words by heart," Humphrys conceded. "I know the tune. But I'm not going to sing it ...
"I love the fans here. Whether they know it or not, lads can hear when there are songs being sung about them. Even today when I came on, I could hear my song being sung – and you can't really describe the feeling, to be honest. I grew up singing footballers' names when I was a kid. To have it happen to you is an indescribable feeling, really."
It's a relationship the supporters want to continue beyond the loan, Robbie Neilson wants to continue and the player himself is certainly open to the idea. "I love it here and I've made that pretty clear," he said. "I've got 18 months left at Wigan, a club close to my heart. But I've come here, dedicated myself to this club – and we'll revisit it at the end of the season. I don't know the Hearts stance on it, properly. I don't know Wigan's stance. All I can do is focus on trying to win more games here."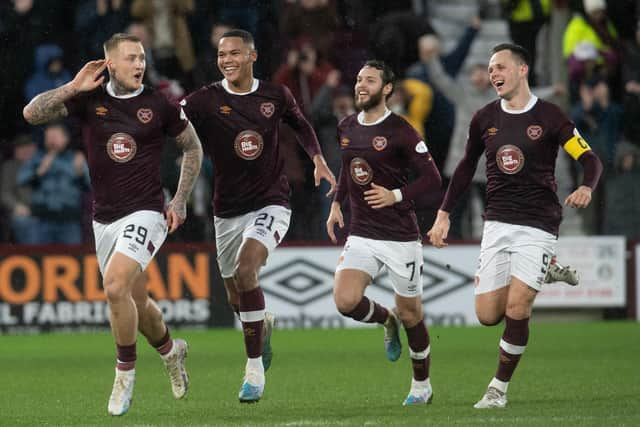 As for the goal? It came after a "stinker in training" prior to the match following a bout of illness. "I had just sliced one out of play two minutes before – and I thought I'd better not do that again," he added. "So I carried it forward a little bit. I could hear the bench shouting on me to go to the corner. But I thought: 'I've just sprinted forward, I've just sprinted back, now I'm sprinting forward again, I don't fancy going all the way to the corner flag'."