Steven Naismith's vital Hearts week: Talks at end of season, cool heads, Rangers mentality
Steven Naismith is no stranger to big matches at the business end of the season and this week will be vital in shaping his future at Hearts.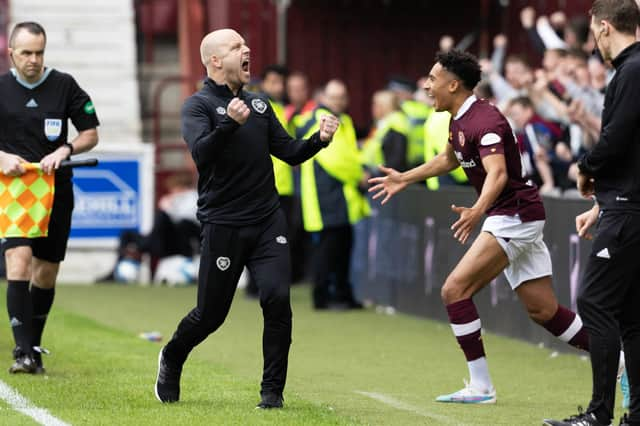 Handed the first-team reins on an interim basis after the sacking of then-manager Robbie Neilson at the beginning of April, Naismith's tenure began with a derby defeat by Hibs at Easter Road as the club struggled to get out of a six-game losing run across all competitions. But there has been improvement since – a 6-1 trouncing of Ross County, coming back from 2-0 down with ten men to draw at St Mirren and then beating Aberdeen last weekend to keep Hearts' chances of catching the Dons and finishing third in the Premiership alive.
Those recent feats will have surely impressed the Hearts hierarchy, as will have his attack-minded style of play. The team has been entertaining under his the 36-year-old's watch. However, the former Jambos forward and Scotland internationalist is still very much a rookie manager and that's why the next two games, against Rangers at Ibrox on Wednesday followed by Hibs on Saturday, are likely to go a long way to making up the minds of chief executive Andrew McKinlay and the rest of the board.
Naismith does not expect any sort of discussion with the Hearts hierarchy until next week at the earliest. "None at all," was his response at Monday's press briefing when he was asked about any talks so far "And realistically this week there's no time. We may as well wait until after the season, after Saturday, that's it done and the players get some rest or go away for internationals and that's the right time to have the conversation."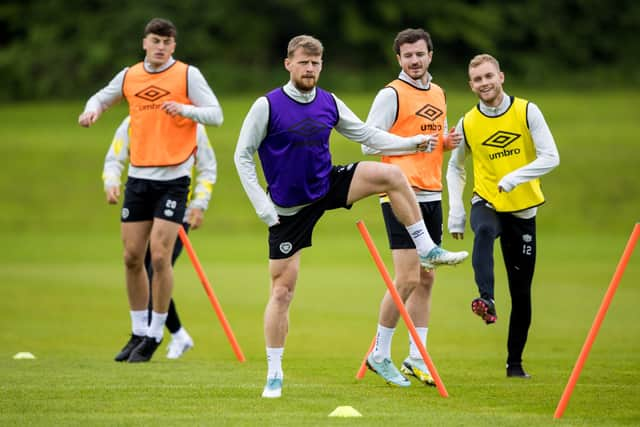 Calling for cool heads in the cauldron of Ibrox, Naismith does not believe the game against Rangers is a must-win. Yet he does concede that a win in Govan, where the hosts are unbeaten domestically all season, would make a statement to the board. When dispensing of Neilson, McKinlay spoke about how lamentable Hearts' performances and results have been against Rangers. They have only won one of the past 19 league encounters with the Glasgow side. Hearts want to be far more competitive against the second-best team in the league and even a stern examination of Michael Beale's men could enhance Naismith's credentials of a permanent position.
"No it wouldn't," Naismith said on how a win would not harm his chances, "but I feel I've been trying to make a statement with every game we've played. It's not been perfect with results but there's definitely been a clear shift in how we play. What I want is to try and make the club much more attacking and be a threat to other teams. That's the big thing I focus on. If we want to be successful long term you need to compete in every game and that starts on Wednesday."
Acutely aware of the standards required at Hearts, Naismith has gone about not just changing the style of play at Tynecastle but the culture of the club. "When I've become a coach, the decisions I've made at 18s level, B team level, has been to benefit Hearts this year, next year, in five years time," he continued. "In this role I've consistently tried to make decisions and give my advice on how I've seen things, clubs I've been at who are massive clubs, and try to make those decisions for the club to be better. For Hearts, they need to have an identity, a way of playing, and that isn't just on the pitch. It's the club as a whole. Getting players into the youth team has been very poor since I've been here, or getting them to stay here. So there's loads of aspects of the club that need to be formed into the identity. Most clubs should have it and Hearts certainly should with the size, infrastructure and demand of it.
"Whatever way you look at all these results and how they go, there's a demand at Hearts. I felt it from the moment I came here. I didn't realise it until I came to the club. There's an expectation and all the work going on off the pitch for the last five or six years, leading the way with fan ownership in Britain, it's made massive strides. It's now the consistency element we need to get on the pitch for the club to push on again."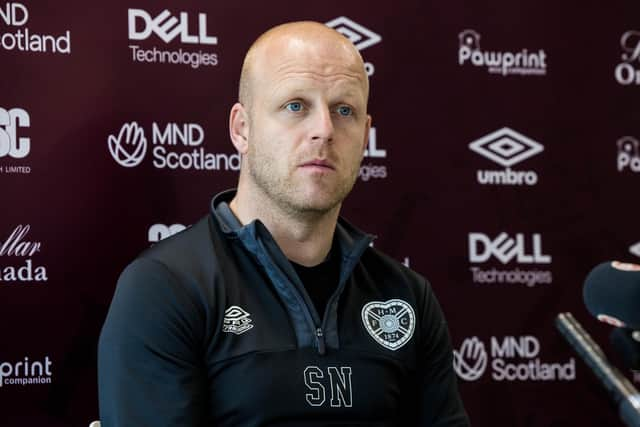 Naismith, a former Rangers player, knows it is easily to let things run away from you at Ibrox. He wants his team to play with calmness, expecting a motivated Rangers. "Maybe the club don't [have something to play for] but the players definitely have something to play for – their futures. That's something that I've learned when I was at Rangers. That's probably how I got my success there because I had the fear of not being good enough, the fear of losing out.
"You can see the changes that have been made, players are coming in to try and stay at the club. The manager's made it pretty clear that there's going to be a big overturn in the summer. At a club like Rangers, there can never be an acceptance of nothing to play for, if I'm honest. I expect Rangers to be up for it, expect them to be aggressive and try and get the crowd behind them during the game, but we'll do what we can to stop that happening and cause them problems.
"I want to get away from all the emotional thoughts. You need to be calm, you work all week not to be emotional on a Saturday and make an impulsive decision. We need to be controlled in everything we do, whether it is the first or the 80th minute."
Talking the talk on a big week, Naismith now needs his men to walk the walk – for the club's top-three aspirations and his own of becoming manager.