Steven Naismith provides evidence of Hearts camaraderie after Robert Snodgrass statement
Interim Hearts boss Steven Naismith has defended his players after axed midfielder Robert Snodgrass appeared to take a swipe at squad unity.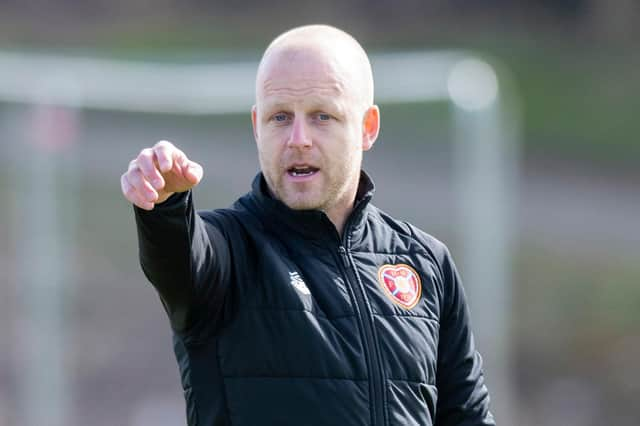 The 35-year-old midfielder was axed from the Gorgie outfit's squad last week in the wake of manager Robbie Neilson's sacking. The stand-in boss explained that his former Scotland colleague, whose contract was due to run into the summer, was unlikely to feature regularly and, as such, could be a distraction. Since then rumours have circulated about a rift in the playing ranks, with friends of the former Scotland international suggesting he had been used as a scapegoat for the team's dramatic dip in form.
The capital team, who had been solid favourites to finish in third place for a second successive season, have suffered a notable collapse in recent weeks, losing six games on the bounce to slip into fourth spot. And on Thursday morning Snodgrass released a statement on social media saying he had been determined to fight for third place but "that chance was sadly taken away from me", leaving him "gutted and disappointed". While promising to eventually tell his side of things, he did offer some thinly-veiled insight into what he considered contributing issues.
"Just want to thank Hearts for giving me the opportunity to pull on the jersey and play back in the Scottish game," Snodgrass wrote on social media. "Big thanks to the fans for making me feel loved again, your support has been superb home and away. I would like to thank Robbie Neilson and Lee McCulloch for bringing me to play football in a really good team.
"I was emotionally attached to and determined for us to kick on. The previous six weeks had been a real challenge for us all. But that's when a TEAM sticks TOGETHER. Digs in and fights for the guy next to you. I was in for the fight and desperate for third place but that chance was sadly taken away from me. It left me gutted and disappointed.
"I wish the club all the best for the rest of the season. I loved working with a great set of boys, helping and developing the younger boys' game. The amount of positive texts I've received from the dressing room leaves me no doubt I've made friends for life.
"I will definitely tell my side of the story but right now isn't the appropriate moment, out of respect to my team and the supporters. The focus has to be on third place. Hope the boys smash it."
While Naimsith accepts that the former Leeds, Norwich, West Ham and Aston Villa player has the right to air his side of the story, he claims he has seen no sign of the squad factions hinted at in the statement.
"Like I said before, when I spoke to Snoddy he was disappointed and rightly so," Naismith said. "But, all I've seen is every player giving their all and engaging in what we are asking them to do. The level of training has been very good. That comes from players, who have not had a look-in, now thinking they have a chance of playing and others wanting to impress to stay in the team. Since I took over there has not been one player I've thought is not at the level we need. They have worked really hard and are trying to do the right thing."
Naismith cited the fact that every squad member – fit or otherwise – chose to head to Easter Road last weekend to cheer on their colleagues in the derby as evidence of camaraderie. "There is harmony," he continued. "Last week proved that. Every player wanted to turn up at Easter Road. All the injured players came up and said they wanted to be there and be part of the group. That was coming from them!"
But while some manager's may try to use the statement, the rumours and speculation to create a siege mentality, Naismith has refused to bestow that level of importance on any of it. "It has not been mentioned since day one until now and I can't see why it will be mentioned again. The players who have been out and are coming in, the ones who haven't had many minutes, they've got a point to prove to say: 'I was signed here to play and I haven't played enough.' I think there are quite a few on that list and I think that's what will drive them. They want to be a success but not because of anything anybody else says."