Steven Naismith already shaking things up at Hearts - 'everything needed changed'
Steven Naismith has only just taken the reins at Hearts but he has wasted no time in making the changes he believes will benefit the club.
While many will view his next seven games in charge as an audition, he says there is a bigger picture and whether he remains in post beyond the conclusion of this season or not, he wants the Gorgie outfit to be in a better place by then, with no-one coasting.
That is the charge he has levelled at the players he inherited this week as he makes his mark.
"The biggest thing is enjoying it," he said. "From what I have seen, from the players I know and have played with, in the three days I have been here, there are really good players here, better than I thought. But the first thing I said to the players is: 'The last six weeks, we've coasted. And that's why you've not got a good points gap."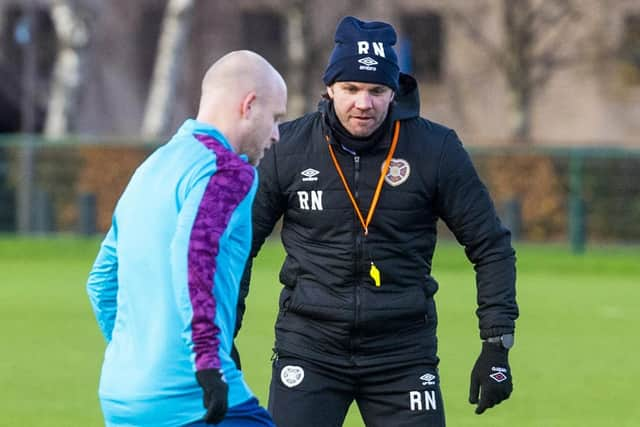 Overtaken by an Aberdeen side that trailed them by 10 points in late January, Hearts now have a two point deficit to overcome as they look to bounce back from the five-game losing streak that cost Neilson his job. Accusing his new charges of trying to play it safe instead of pushing the envelope, he wants to see more bravery and a team on the front foot.
"Why have you been [playing it] safe? Because you've felt uncomfortable and you have not enjoyed being in the atmosphere on the pitch. So strip all that out, get to the point where you just enjoy it and you're not thinking about what you're going to do.
"The best time I had as a player was when I got the ball and I did something. Why did I do it? I don't know, I just did it. That's when you play your best stuff. That's what we need to get back to, because for the last 18 months it has been brilliant and they haven't turned into bad players. So it's about getting rid of any baggage. You don't want someone thinking: 'You know what? I'm not going to play that pass, I'll maybe play the safe one'.
"I know we're going to make mistakes, we're going to lose goals but I think we're going to score more goals, and I think the boys will enjoy it and we'll attack and play football everyone enjoys, everyone buys into, and that gives us the best chance of winning games."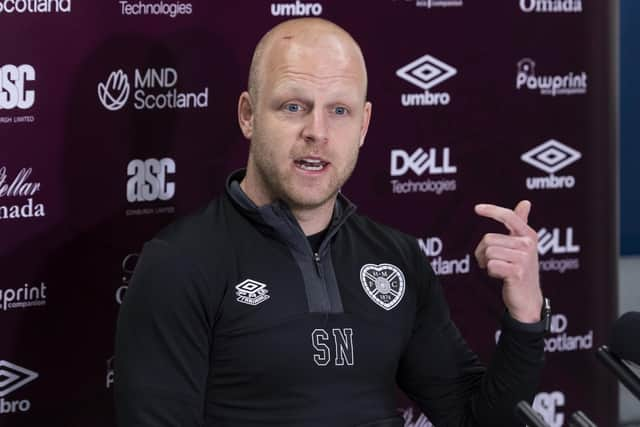 Given that Robbie Neilson was sacked after the board lost faith in his ability to deliver a top-three finish, and the subsequent £5m associated with European group football, the expectation is that Naismith has been set that same target.
"I don't see that same pressure, if I am being honest. It's about winning games and enjoying it."
Managed by impressive gaffers at Kilmarnock, Rangers, Everton, Norwich and Scotland, Naismith believes he has been training for this opportunity for most of his career.
"That's what is going to form me as a manager. How I want to prep, how I want to train, parts of that come from me being at Kilmarnock, Rangers, Hearts, Norwich, Everton and the international scene. All these things combine."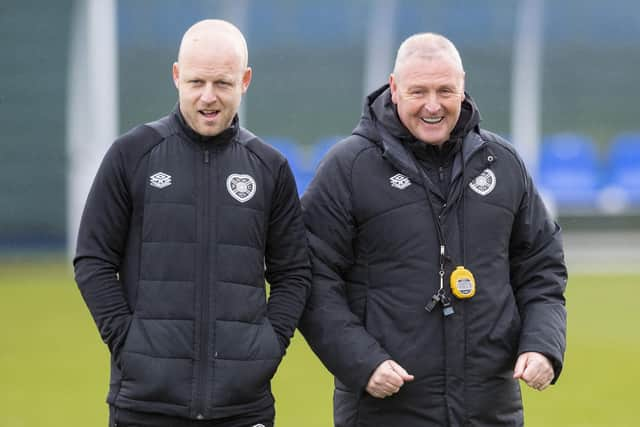 And Scotland gaffer Steve Clarke has already been in touch with the fledgling coach he recruited to his backroom team.
"I've been learning. I've asked questions and found out details of why they do or don't do certain things. That's why I feel I'm equipped. It's not been the last year or two since I retired. It's been my whole career.
"I've had so many nice messages from team-mates and coaches - someone who coached me full-time at 16, all the way through. They're saying: 'I knew you were going to do this' and that is down to me asking questions and having enthusiasm. That gives me confidence and makes me feel I'm equipped.
"Has this come quicker than expected? Yes. Am I ready for it and well equipped? Yes. Do I want to be manager come the end of the season? I don't know. If I'm enjoying it all I might say, 'by the way, I'm ready to be the manager, I would like to be considered'. But, until then it is about taking the club forward.
"One thing I do believe is the club needs to get better at bringing youth players through, because there's a great income revenue if you sell them on, it makes your team better.
"I've worked in that environment for the past 18 months and that's a focus I want to have for the club. I think it's the right one. Hopefully we can show a bit of progress on that so it becomes the norm at this club. Because it's a big club with big demands and big expectations. Players need to get exposure to that, to see if they sink or swim.
"I've made loads of changes. To give us the best chance, everything needed to be changed. From the way meetings are run, the look of meetings, the way training is run, everything like that.
"One of the changes I've made is, if a youth player is in the first team environment today, he comes into this building as a first team player. He acts like a first team player, gets treated like a first team player and trains with the first team. That's opportunity.
"I'm not telling you they're going to make it. I won't tell them they're going to make it. But I'll give them the opportunity. That's what I got at Killie. I got an opportunity and I took it. So I'm a big believer in that."
He has a fresh opportunity and it may or may not be for him but one thing's for sure, he won't coast through to the end of the season. If he has his way, no-one at the club will.
Comments
 0 comments
Want to join the conversation? Please or to comment on this article.