Hearts must now avoid defeat in the home derby against Hibs in the rivals' final Premiership encounter at the weekend to avoid sliding to fifth, and Naismith accepted this would have seemed inconceivable at one stage of the season. Although not by the time he was placed in charge following the sacking of Robbie Neilson seven weeks and six games ago. His return of two wins, two draws and two losses he believes could have been so much healthier but for one factor. Exemplified as a 50 second opener gave way to slapdash defending allowing Rangers to strike twice either side of the interval.
"It is disappointing [where the club is we] were 11 points clear at one point and shouldn't be in this position. That is what it is," he said. "Since I came in we have tried to give ourselves as good a chance as we can. We have done that but when you are relying on others, that is not where you want to be, especially at a club like Hearts. You don't want to be relying on others to get you success, we want to do it our way and that is something we have tried to do.
"In the games I have been in charge of, the amount of soft goals we have conceded has not been good enough. If we don't concede a lot of them we are in a healthier position but the boys have done incredibly well to buy into what we want to do and try to and also get results along the way.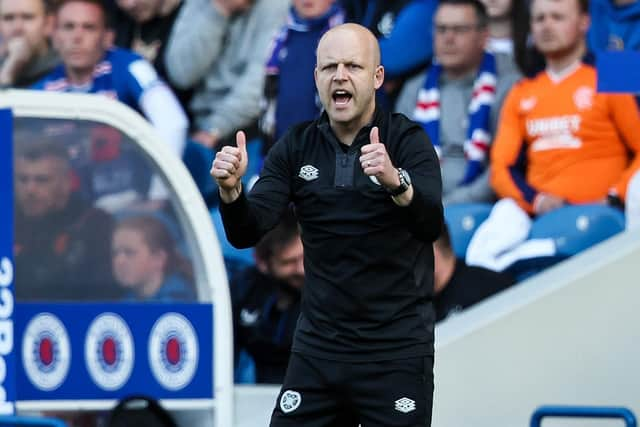 "We got off to a really good start [at Ibrox] and for 45 minutes we played really well, disciplined and in the moments we could take control of the game we did. We gave away a soft goal and in that pattern of play there were a lot of things we could have done better but it cost us, we gave Rangers an easy chance to score. It is frustrating because for 45 minutes we played well and when we got the ball we were brave enough to play.
"In the second half we gave away another cheap goal which put us on the back foot but we are brave. We decided to make changes to try to keep us in the game and I felt that in 90 minutes we were really good in possession which got us in the final third. Maybe our decision making or finishing could have been better but credit to the players, they continued on and fought and got the point."