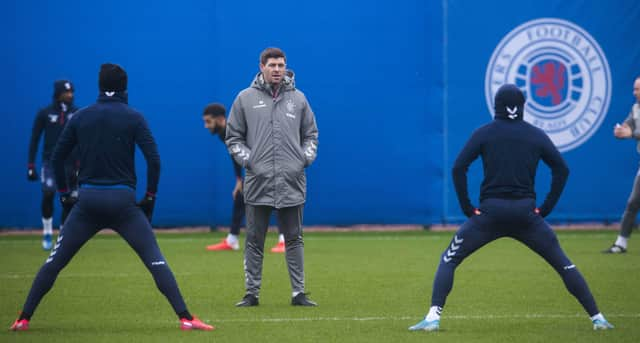 In the glamour stakes, tonight's Scottish Cup quarter-final clash with Hearts at Tynecastle may pale against the Europa League last-16 tie with Bayer Leverkusen that will see the home first leg roll round in little under a fortnight. In terms of importance, though, events in Gorgie matter more than any German joust.
Gerrard was tasked with reviving Rangers when handed his first post in management in May 2018. In continental terms, he has delivered more than seemed conceivable. His Rangers side have twice reached the Europa League group stage – achieved without the loss of a single one of 16 qualifying ties – and are now in the last 16 of the competition for the first time.
Trophies were the club's stock-in-trade before the plunge into liquidation in 2012 but none has come Gerrard's way in a year and a half in charge. And with Celtic having established a 12-point advantage in the Premiership, realistically the Scottish Cup has now become Rangers' best chance of a first major honour since 2011, and preventing an entirely barren decade becoming a very real possiblity.
"Possibly... possibly," Gerrard offered with a pained expression to that contention, before looking to provide 
context.
"We take each game as it comes and we go from there. We have a really exciting draw to look forward to in Europe and we have progressed well in that competition. We have progressed in the League Cup, but, unfortunately, we couldn't get over that final hurdle.
"The performance on the day was fantastic. Of course, I am disappointed with where we are in the league as of now.
"There are still games to play. It's about churning out results and performance and see where it takes us. There is no point in looking too far ahead. We just need to look to Hearts as that's the next game."
Gerrard cannot countenance his players showing any signs of resting on their laurels following a performance in Braga that demonstrated the heights his team are capable of reaching – just three days after their inability to hold on to a lead in Perth illustrated their tendancy of late to endure lows on league duty.
Yet, Gerrard has no truck with the suggestion that his players are picking and choosing their games, having beaten Celtic and Braga on their own turf in the past nine weeks but lost at Hearts and Kilmarnock and failed to beat St Johnstone away. "I think we've got a real honest group of players in the dressing room and, more often than not, they give you everything. I think it would be very disrespectful to accuse them of that," he said. "But there have been games where we haven't hit the heights we would have liked and haven't got the results we would have wanted for that.
"It is my job to try to eradicate those type of performances. The players know when they're not at it individually and collectively. We have also suffered at times from real big individual mistakes that we need to try and eradicate as well. That will give us a much better chance of getting the results we want."
Gerrard says his team will be "respectful" of the challenge they face at Tynecastle. Yet, heaven only knows what it will amount to with Daniel Stendel's team anchored to the bottom of the Premiership.
Unlike Rangers, this is the least important game the relegation-threatened Edinburgh side face in the next couple of months. Gerrard sees it differently, and he understands how the cup tie could be a release for the Hearts players from a league campaign that 
has proved oppressive and depressing.
"If we go there and we don't show our level and what we're about or we fall short of where our level needs to be to get the win then we will find complications again," he added. "Hearts will want to be the team to knock us out of this competition. We need to be ready for that."