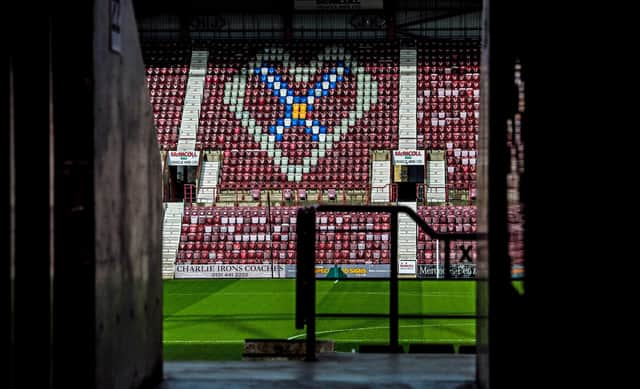 A league reconstruction plan for a 14-team Premiership could be finalised this week and circulated to Scottish clubs within a fortnight.
The proposal would spare Hearts, Partick Thistle and Stranraer relegation from their respective divisions but would require an 11-1 vote from top-flight clubs.
The Scottish Professional Football League's 15-person restructuring task force, led by Hearts owner Ann Budge and Hamilton's vice-chair Les Gray, hope to agree a preferred model and put it to all 42 member clubs within the next two weeks.
A plan for three leagues of 14 teams has been discussed, as has a 14-14-16 set-up to include Highland League winners Brora Rangers and Lowland League champions Kelty Hearts in the bottom tier.
A 14-10-10-10 system is not being ruled out but that is only a slim possibility given all 10 League Two clubs intend to vote only for a three-tier 14-14-14 proposal. It remains to be seen if they could be persuaded to accept a 16-team third division.
Hearts are keen to expand the Premiership given they currently sit bottom of the table and face a drop into the Championship.
Thistle and Stranraer are also seeking to avoid demotion after the SPFL passed a vote to end the Championship, League One and League Two campaigns early, with the Premiership possibly following suit.
Financial redistribution has still to be finalised before the task force present their official proposal to chairmen across the SPFL.
Clubs would then have 28 days to decide but would be encouraged to return their votes quickly – with all concerned keen to avoid a repeat of last month's voting fiasco involving Dundee.
Changing prize money distribution and/or admitting new teams would mean a change to the SPFL articles. That requires votes in favour from 11 Premiership teams, eight in the Championship and 15 across League One and League Two.
Premiership officials will discuss the matter during a meeting on Thursday as the SPFL task force try to ascertain which of the models would garner most support.
"We had a good meeting yesterday and we are ready to progress that further and take it to the Premiership clubs, probably by the end of this week," said Gray.
"The guys will be working through the models that we have agreed look the most favourable. I think we will be in a position over the course of the next week to see exactly what that is.
"The guys on the group speak to the other member clubs in their league and bring their feedback to the meetings. The plan would be to go to all 42 clubs with a model we think we can go forward with.
"All the clubs are keen to try and bring this to a head and find out what way it is going. Ann has said publicly that she would like to get this part of the process done quickly.
"Scottish football has a lot bigger problems than just reconstruction just now, so we need to get these issues out of the way so we can deal with the larger issues.
"I would hope this week we would be firming something up and then getting a document to all the clubs over the next fortnight."