SPFL chief Neil Doncaster responds to Hearts owner Ann Budge over 'disproportionate financial damage'
League figurehead says ending Scottish season was impossible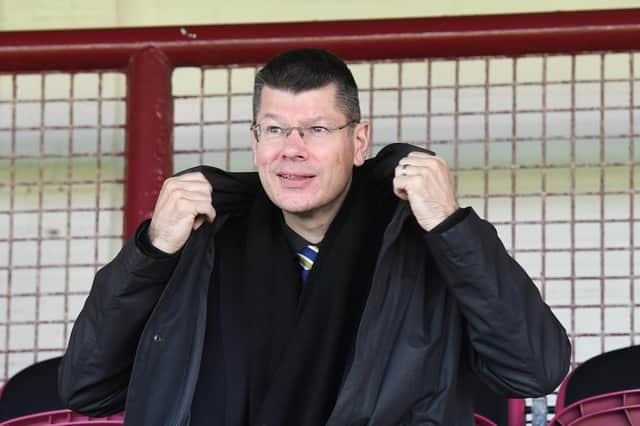 Neil Doncaster today responded to Hearts owner Ann Budge's claim that all three relegated clubs suffered "totally disproportionate financial damage" after the 2019/20 campaign was cut short.
The Scottish Professional Football League's chief executive stated he takes no pleasure in seeing teams go down but stressed Scottish football is not immune to the coronavirus impact.
Budge issued a statement on Monday when an arbitration panel confirmed relegation for Hearts, Partick Thistle and Stranraer following a legal appeal against the decision.
In it, she commented: "What has been allowed to happen in Scottish football, where fellow member clubs and our governing bodies have stood back and allowed totally disproportionate financial damage to be imposed on 3 of its members, can only be described as shameful… as indeed, should the SPFL's recent self-congratulatory statement."
Doncaster spoke on Sky Sports after fixtures were released for the 2020/21 Scottish Championship, League One and League Two campaigns.
Asked about Budge's remark regarding three clubs suffering financial losses, he replied: "Covid 19 has caused huge financial damage to the whole world and Scottish football is absolutely not immune to that.
"Other than the three clubs who got promoted, plus the Premiership champions Celtic, all the clubs ultimately lost the opportunity to improve their position and improve fee payments from the league, or perhaps to get promoted through play-offs.
"Yet, despite so many clubs were arguably disadvantaged by the outcome, over 80 per cent felt it was the only way and the fairest way to deal with it."
Doncaster said on Monday he felt the SPFL had been vindicated by the arbitration finding firmly in their favour. He explained why he felt the 2019/20 season had to be ended prematurely via a vote by clubs.
"We're certainly pleased that the [arbitration] decision gives us clarity and certainty and enables us to look forward. I think the whole process has been largely misunderstood by a number of people," he explained.
"We have to remember that when we went into lockdown in mid-March – unlike in England where players were able to continue to train and that enabled the Premier League to get back up and running and finish their season off – that option wasn't open to us.
"We had Scottish Government regulations in place that meant our players simply couldn't train. They only came back to full-contact training at the end of June. By the time you get a pre-season in, you are already at the beginning of August, which is where we are and the season will start.
"There was never any realistic possibility of the season completing and that was accepted by all 12 Premiership clubs. Hearts themselves accepted that the season needed to be brought to an end."
Asked if it was ended in the correct manner, he replied: "We certainly would have liked the flexibility that the English had to be able to complete their season, but we simply didn't have it. There was never an option to complete the season in Scotland.
"The question was how you deal with that situation and how you come up with the fairest possible outcome. That was put forward by the board of the SPFL and voted on by the clubs.
"Over 80 per cent of the SPFL clubs agreed that the fairest way would be to determine the divisions on a points-per-game basis, and that's what has happened.
"The decision gives us the clarity and certainty that we've been looking for and does enable us finally to look forward."
Scotland's clubs spent weeks fighting among themselves over who voted for and against the proposal to stop the season early. Dundee changing their casting vote from 'no' to 'yes' was one of the most contentious issues.
Doncaster claimed he is not happy Hearts, Partick and Stranraer suffered relegation as a result. He conceded that clubs were constantly bickering beind the scenes.
"It did feel like that and that was happening. There was a lot of conflict between clubs and the SPFL. The stakes are very high. Although it's a sporting competition, there are people's livelihoods, it's a business and there is a lot of money at stake.
"People are very concerned and clearly looking after their own interests as club. That's natural and inevitable. Our role at the centre is to apply the rules as fairly and evenly as wecan, and to come up with the best and fairest outcome. I'm very happy that we did that.
"I'm not at all happy that clubs had to be relegated with a part of the season remaining, but it is a sporting competition. Those clubs were in the bottom position in the league at the point where the season came to an end.
"The season couldn't be completed, everyone accepts that, and it was then a question of simply coming up with the fairest possible outcome. That was what the clubs voted on and that's what was decided by more than 80 per cent of them."
The SPFL board remain limited in their ability to help clubs in future. A proposal to hand SPFL directors power to decide how to deal with future coronavirus-related stoppages was voted down by chairmen across the country.
"We are a members' organisation and ultimately we are the whim of our members," said Doncaster. "Whatever the members decide, that's what we implement.
"Recently we put forward a resolution to the members that was designed to give the [SPFL] board express power to deal with any Covid 19-related disruption in the coming season.
"The members declined to vote for that. They wanted to keep the power to themselves to make any decision on the coming season. We absolutely respect that."
A message from the Editor: Thank you for reading this story on our website. While I have your attention, I also have an important request to make of you. The dramatic events of 2020 are having a major impact on many of our advertisers – and consequently the revenue we receive. We are now more reliant than ever on you taking out a digital subscription to support our journalism. Subscribe to the Edinburgh Evening News online and enjoy unlimited access to trusted, fact-checked news and sport from Edinburgh and the Lothians. Visit https://www.edinburghnews.scotsman.com/subscriptions now to sign up.