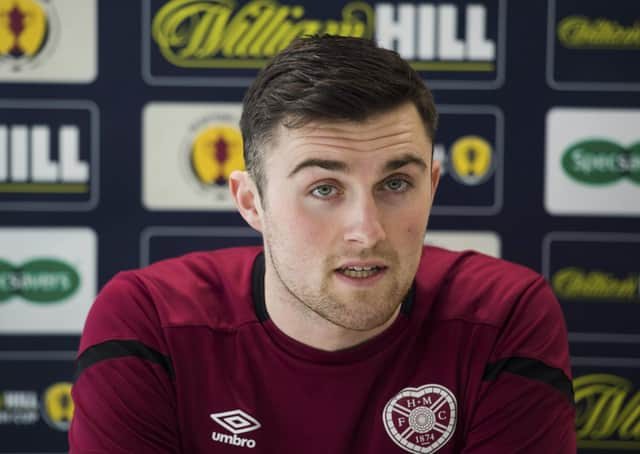 Extracted by Hearts midway through the 2015-16 relegation season, he avoided the misery of the United squad coming up short. But the form of the current Tynecastle side means he is belatedly gaining a sense of how stressful that league run-in must have been for his former team-mates
"I left in the January so I didn't really get to this stage [with United] but we were bottom of the league and Hearts are bottom of the league now so I suppose you could draw similarities," said the Hearts defender.
"It is a difficult situation but it is one that I believe we can still get out of. It is easy saying that but we have to go and do that on a Saturday or a Tuesday. The whole group is feeling like that but there is no point in saying 'we believe', we have to go out there and show it now. There aren't that many games left so we have to go and do it."
A concertinaed run of league fixtures awaits Hearts but they have a modicum of respite this evening when they swap Premiership business for Scottish Cup action as they welcome Rangers to Gorgie, with a semi-final spot at stake.
"We go into this game with sort of a free hit because it's a cup game," said the club vice captain, who is clear that the league has to take precedence as Hearts seek their fourth successive appearance in the last four of the domestic cup competitions. "A cup run would be brilliant but our full focus is obviously on the league. So anything that happens against Rangers would be a bonus.
"Free hit is maybe the wrong phrase but you know what I mean. They have pressure on them and we have pressure on us as well. It is a big game for us, there is no getting away from that. A win would be huge, not just to get the club to Hampden again, for the fourth time in a row, which would be good, but it would give the whole place a lift and it could ignite something and give everyone a bit more belief. It could be a turning point and hopefully it is."
Hearts won 2-1 the last time they met Steven Gerrard's men in a game which counts as one of the few highlights of 2020 for Daniel Stendel's struggling side, their only Premiership triumph since the turn of the year and the sole league victory under the German coach. But it did not prove to be the kickstart they had hoped it would be back in January, with the capital side still stranded at the foot of the table.
"There have been a number of reasons, people not performing, individual mistakes, different things have happened," explained Souttar. "I don't think it has been one thing, it has been a collection. But there are 11 games left and we've got to start getting things right. A win on Saturday would be good to lift the whole place because as everyone knows we're bottom of the league, so it's down a bit and a win would be brilliant.
"It's obvious how serious the situation is, we have got to win games and win them quickly. I don't think the best thing to do is look at other teams, we have got to focus on ourselves, we need to win games. If we do that the other teams won't matter." The win over Rangers came in Souttar's third game back following his prolonged spell on the sidelines with an ankle injury. Along with his central defensive partner Craig Halkett, he was immense that day, but as the team try to adjust to their lowly standing and the new tactical approach favoured by the manager, that level of performance has proved difficult to maintain.
"It is always tough coming back from injury but this has probably been the hardest time to come back, personally," added the defender.
"But that is football. I want to play every game and there is no time to break yourself back into games. You are straight into 
the fire and that goes for a few of us.
"But there is no point thinking about personal stuff. It is all about the club and it is such an important thing that we stay in this league for everyone here. You just need to put all your selfish thoughts aside, about how you are feeling – and that goes for everyone – and just do everything we can to keep this club in the league."
The cup could be seen as a distraction as Hearts strive to do that but for the players and management, if they succeed in reinforcing the positive feelings that the last match with Rangers spawned, it could be the perfect pick me up at just the right time.