Robbie Neilson addresses his Hearts future, Ann Budge talks and fan fury after Brora Rangers defeat
Robbie Neilson today emerged bullishly from Hearts' humiliation at Brora Rangers and insisted he will turn things round at Tynecastle Park.
The manager delivered a candid assessment of his club's predicament, admitting owner Ann Budge was unhappy at the Scottish Cup exit and that he understands supporters' growing anger.
Neilson was visibly distraught at the end of Tuesday night's defeat as the magnitude of the result took hold.
Neilson outlined his resolve to overcome the Brora defeat with Hearts on the cusp of promotion back to the Premiership.
"I've spoken to Ann a couple of times. She is always open and honest about her thoughts," said Neilson. "Like myself and the rest of the Hearts fans, she is bitterly disappointed with Tuesday's result. That's part of my job to take the flak – to take the flak and the stick that comes externally.
"I was a player here for a number years and I was here as a manager so I know the demands the club puts on people and it's a privilege to have that, to pull on the maroon jersey to go and play.
"The Hearts fans since I've been here have been magnificent. We've had ups and downs and Tuesday was a big down for us and one the players, myself and staff will rectify as soon as possible."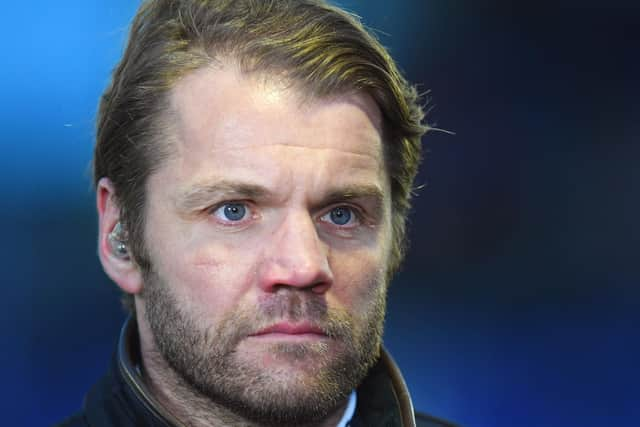 The sizeable task of transforming the mentality at Riccarton is not lost on Neilson following Hearts' enforced relegation last year. He arrived on a three-year contract with assistants Lee McCulloch and Gordon Forrest. "I knew when I came here last summer that we were a big club on a downward spiral," he explained.
"My job and the job of the staff is to turn that around as quickly as we can. There's going to be bumps in the road. If you look at the teams that have come down [to the Championship], very few have come straight back up.
"It took Rangers two years to get up, Hibs were down for three and Dundee United were down for four years. The job was always going to be about turning around the mentality of the club and there's always going to be bumps in the road when you do that.
"The bump on Tuesday was one of the biggest ones I've faced, that's for sure, but it's important that we turn it around and drill home the standards that are expected.
"No matter what's happened, what you've done the season before, it doesn't matter. Tuesday wasn't acceptable. We understand that and I totally understand the backlash from the fans.
"If I was a fan I'd be doing the same thing. There's nobody hurting more than me about it and nobody wanting to try and move this place forward more and not have nights like that again."
Since Tuesday, some Hearts supporters have spoken of stopping their monthly cash donations to Foundation of Hearts. The fan-run group is due to assume ownership of the Edinburgh club this summer.
"The Hearts fans are an unbelievable fanbase, one of the best in the world. They've supported this club through thick and thin. This year has been very difficult for everyone associated with the club," said Neilson.
"We've had a demotion to the Championship, having to build back up, fans not able to come to games, and then Tuesday night's result. I think it's important we all stick together and get this club back where it belongs.
"It's going to be a twisting road with ups and downs along the way, but that's part and parcel of being a Hearts fan. If you want to go and win every week, then people go and support Man United or Man City, teams like that.
"The crux of being a Hearts fan is that they stick together. I've been a Hearts fan since I walked in this door at 16 years old. It's a fantastic place to work. We can't thank the fans enough for the support they give the Foundation because to be honest it keeps the club alive."
Aside from securing promotion, Neilson also intends to overhaul his squad before next season. He will be watching closely against Queen of the South to see just who was hurt by Tuesday's result – and how much.
"I'll tell you on Saturday. It's easy to talk about it, train, watch videos and say the right things. It's when they pull on that maroon jersey again you learn if it's been taken on board.
"We've got a lot of players out of contract in their last year and this moment in time, the players are competing to stay at the football club. It's an honour to play at Hearts so every time you go out there, you're auditioning to stay at the club.
"On Tuesday night, a lot of us failed that audition. It's important that we realise that every time we go out there, we're being tested and asked the question: Can you stay at this football club?
"I'm expecting firstly to win the game on Saturday but also for the players to know what's expected – that when you put on that maroon jersey you give everything and fight right to the end. You have to do the level of work expected of a Hearts player.
"There will be a couple of changes to the team. We can't make wholesale changes with injuries and guys on international duty. It will give the guys a chance to redeem themselves, that's for sure."
A message from the Editor: Thank you for reading this article. We're more reliant on your support than ever as the shift in consumer habits brought about by Coronavirus impacts our advertisers. If you haven't already, please consider supporting our sports coverage with a digital sports subscription.