Next Hearts manager: Where do club go after Robbie Neilson - what fans want, the Jambos needs and why they should be aiming high
There was a time, not so long ago, that Hearts fans just wanted a manager. Any manager. You could have shown them a list of potential candidates, the bookmakers' shortlist or simply plucked names out of a hat and the answer would have been a quickfire 'yes'.
The team, defeated on the last day of the 2007/08 season by Gretna in front of fewer than 2,000 fans at Fir Park, had finished eighth in the top-flight, a point behind Falkirk. It was a campaign which featured an unorthodox coaching structure. Anatoly Korobochka and Stephen Frail were the management team, there was the presence of Bulgarian Angel Chervenkov and Frail would ultimately take sole charge during the campaign. That summer presented the club's board with a huge decision. New boss Csaba László was welcomed with open arms, subsequently transforming the team's fortunes on the pitch.
The Hearts hierarchy are heading for a similarly big decision this summer having parted company with Robbie Neilson and confirmed Steven Naismith is in interim charge until the end of the season. The context, the situation, however, has changed substantially from 15 years ago. Back then there was an element of a blank canvas. Now an expectation for the club to appoint an individual with the capability of building on the work done by Neilson since returning in 2020 and taking them onto the next level. As such, the most recent bookies' list has been met with indifference at very best. Former players, familiar names and coaches he will likely draw irritation rather than inspiration.
Most attractive since 05/06
Hearts need to do something they failed to do in 2016, replace Neilson with a coach who is going to improve the team. To do so, they have a different sporting director and different chief executive to make that choice. It will be a big test for Joe Savage and Andrew McKinlay who have rightly been praised for the work they have done behind the scenes over the last few years. Make no mistake, there is plenty of pressure on them, even after making the decision that an increasing number of the Hearts support wanted. They are in a good position to do so but would of course be in a greater position of strength should the team now finish third and either Celtic or Rangers win the cup. The Hearts job is at its most attractive since the 2005/06 season when Vladimir Romanov spent heavily and the team were challenging for the title. They are, however, unlikely to go as left field as the Russian-born Lithuanian businessman did with Graham Rix.
What Hearts fans want in a new manager is not unlike what those of other Scottish clubs. A coach who pinpoints a core group of 14 or 15 players who will provide consistency in the starting line-up, someone who simplifies the game, putting a team on the pitch which plays with ambition, energy and speed. In possession they are direct. Out of it they are organised and put the opposition under pressure. For periods under Neilson, many of those boxes were very much ticked.
In terms of what the club needs? A manager with plenty of personality, who understands quickly what the club is about, understands the pressures of the job as well as the high demands and standards set by the fans. A coach who is not going to need a long honeymoon period, someone who will galvanise a supporter base which can be easily divided. There should also be a desire for a coach who has a proven record of developing younger talent at a time where player trading will be key to how the club operates.
Aiming high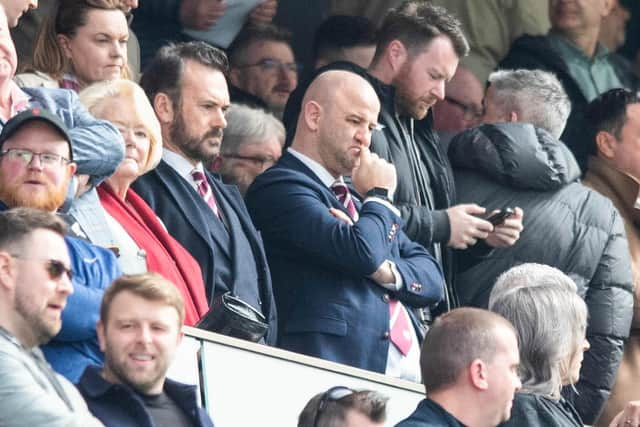 David Martindale would be fascinating to see how he fares away from Livingston where he exerts plenty of influence across the club. However, Livi are going through a difficult spell. Stephen Robinson's name will likely be touted due to his excellent work with St Mirren. However, If you look around the SPFL, outwith Celtic and Rangers, it is difficult to make an argument that you will find a manager who is much better than Neilson, if at all. Hearts should be aiming high. It is a job which should appeal to a number of coaches and even big names, especially those looking to make steps into or get back into management. There is a competitive budget, a sold-out ground, possibility of European football and an opportunity to make a name for yourself, going up against Celtic and Rangers on a regular basis. Scottish football as a whole is an increasingly attractive proposition for coaches.
Former Rangers midfielder Kevin Muscat is an interesting name which has been mentioned. He worked under Ange Postecoglou and has since had success in the A-League and Japanese top-flight. With league titles in both countries he may see himself deserving of a 'bigger' job than the one at Tynecastle Park. Former Scotland Under-21 boss Nick Montgomery has created a name for himself with fine work at Central Coast Mariners and is familiar to some of the players in the Hearts squad. Both Asia and Australia are areas where Hearts have done plenty of work in recruitment. That's barely scratching the surface of possibilities. It is hard to subscribe to a common held view whenever a manager departs, that of 'who can the club get who is better'. There is a whole footballing world out there with managers impressing at all levels. It is on those within the club's hierarchy to conduct a robust managerial search and subsequent interviews.
What happens next is both significant and fascinating. The pressure is on to get the right man to take on the baton and move Hearts forward from where Neilson took them to.
Comments
 0 comments
Want to join the conversation? Please or to comment on this article.