New boy Stephen Kingsley on 'nerve-wracking' wait for Hearts move, fatherhood and becoming a man at Swansea City
New Hearts left-back Stephen Kingsley has been challenged on and off the pitch during his career ever since making his debut at Falkirk aged just 16.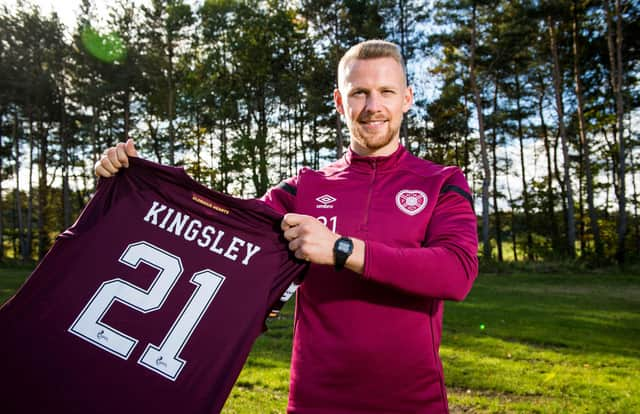 Stephen Kingsley signed a one-year deal with hearts earlier this week. Picture: SNS
He left home as a teenager joining Swansea City, battled with the best in the Premier League and suffered low points in a three season spell with Hull City.
Little, however, could have prepared the Kingsley, who made his debut for the club on Tuesday against Inverness CT, for what this summer was about to throw at him.
Putting pen to paper on a one-year deal at Tynecastle earlier this week had been a long time coming. It had been two months in the making and tested the patience of the personable 26-year-old.
Kingsley had been without a club since leaving Hull City at the end of June following the expiry of his contract, whereby he entered a situation, which is stressful at the best of times, exacerbated by the uncertainty of the coronavirus pandemic.
Conversely, it also coincided with one of life's great joys, becoming a father to his little girl, Alba.
Nerve-wracking but delighted
"I spoke to the Hearts gaffer [Robbie Neilson] a couple of months ago and it was taking it as it comes really," he said.
"There were a few things he was looking to do first before he could get anything done with me and I was looking at different avenues that I could have got done as well but it all tied up in the end and I was delighted to get it over the line.
"Everything in the world just now is the extreme. There are so many boys like myself who left their last clubs and out of contract and were looking for a new contract.
"With the financial problems that all clubs are facing just now it does put a lot of stress on yourself because you have to look after your family and yourself but also understand the position the clubs are in.
"It was nerve-wracking and as it got further on and the season started down in England I was really excited to get going and I was glad this got over the line.
"I was waiting to see what my options were first, I weighed them up against each other and decided what was best for myself and my family, I just had a baby five months ago in lockdown. That changed a lot of things.
"There was a lot to think about and that added to the stress of it all. Hearts is such a massive club and it was a good fit for me coming back home to be with my family as well."
Becoming a father
On fatherhood, he added: "It was pretty insane, everything about it. It turned lucky and I feel very blessed for the experience I got considering what was going on in the world.
"My wife had a great birth and I was allowed in to be there for her, it was very stressful but I always feel so lucky I got to spend so much time with them as well.
"Had the season continued I would not have got that time."
Hearts have added a player with an abundance of experience.
Before Kingsley had turned 20, he had racked up more than 100 first-team appearances for Falkirk. In his 17 English top-flight outings for Swansea he came up against Alexis Sanchez, Eden Hazard and Riyad Mahrez.
A move to Hull City brought experience of the intense Championship, but his time in Humberside was impacted by injury before leaving before the club's relegation this summer with just eight appearances to show for his final campaign.
"That's one of the reasons why I wanted to come and get game time," Kingsley, who holds no grudges with the way it ended at the Tigers, said. "My time at Hull was a bit stop and start and wasn't very consistent through injuries so that was very frustrating for me. I wanted to give so much back but couldn't at certain points.
"Swansea will forever be my second home. It gave me the experience of playing in the Premier League, it gave me the experience of becoming a man I suppose.
"Going down at 19 years old, I was still a boy even though I'd been playing regularly at Falkirk for a few years.
"From there to Hull added another step on the ladder in terms of trying to build that strength within myself and dealing with adversity."
Keeping fit and wanting games
Tuesday was Kingsley's first competitive action in nearly 250 days. However, one quick glance at the player, steely, lean and determined, there is no doubt he has put in the work during the off period.
As well as being put through his places by Pro Performance Academy, founded by former Hearts midfielder Callum Tapping, he has also been training with former club Falkirk.
"My last competitive game was February but big Lee Miller and David McCracken and Falkirk were brilliant," he said.
"They were good enough to give me some game time as well. So I'm so appreciative for what they did for me because that was massive.
"If I didn't have that, I would've come in here and these boys had been in for eight weeks and I'd be nowhere near that level. So I need to say a big thanks to Miller, McCracken and Falkirk for that."
All that is on Kingsley's mind now is to play regular football for Hearts as he battles Ben Garuccio and Aidy White for the left-back spot. An extension to his year deal is certainly not being ruled out.
"My aim now is to play as many games as I can until the end of the season then we'll sit down, have a look and take it from there," he said.
"Given the financial pressure everyone is under just now, the year was best for the club and best for me so that's what we've signed."