Lawrence Shankland knows Hearts record is in sight - 'I'll have hit a really bad bit of form if I don't'
Lawrence Shankland moved to within two goals of John Robertson's Hearts' record goals haul for a season – but admitted he would have been happy to wait a while longer for his 18th.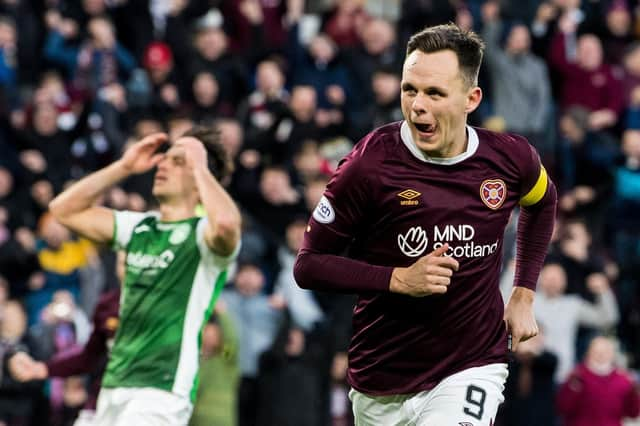 That goal came from the spot as Hearts defeated Hibs 3-0 at Tynecastle. But, during a lengthy wait where VAR checked to see if Toby Sibbick's goal should be culled for offside and then analysed a handball in the build up and whether that merited a penalty, the 27-year-old striker looked to be getting into the zone, should he need to step up and find a way past David Marshall.
"To be honest, I was just hoping Toby's goal had counted," said Shankland. "But then the penalty was there so it was up to me to stick it away. I'd spoken to [referee] Kevin [Clancy] and said he thought it was either a goal or a penalty. They checked the goal and I think Toby turned out to be offside. I didn't see because there were bodies in the way but the boys were saying it was pretty obvious that it was a penalty so they checked that after the offside. I'm guessing they got the right decision."
Aware of the record he is homing in on, as the first player since Robbo in 1991/92 to rack up 20 or more goals, he says he tries not to think about it too much. "Of course," continued Shankland. "I know how big a player he was for the club and how well thought of he is around the place. If I manage to do it, then it will be good for me. I was four away before today so I'll just keep playing and hope the goals keep going in. If I get there, I get there. It's close now and I hope I do get there. I'll have hit a really bad bit of form if I don't. It's going on in the background and people are taking notice but I'll just keep doing what I'm doing.
On playing the derby, the interim skipper added: "I was obviously a wee bit more nervous because you are leading the team out. But after you do the coin toss it's over and done with and you play your normal game. It helps when you get an early goal."