Kyle Lafferty finding contentment at Kilmarnock after sister's death
Life assumed a new perspective for Kyle Lafferty after burying his sister. Devastated by 41-year-old Sonia's untimely death last November, he has found some contentment at Kilmarnock and feels inspired by her watching over him.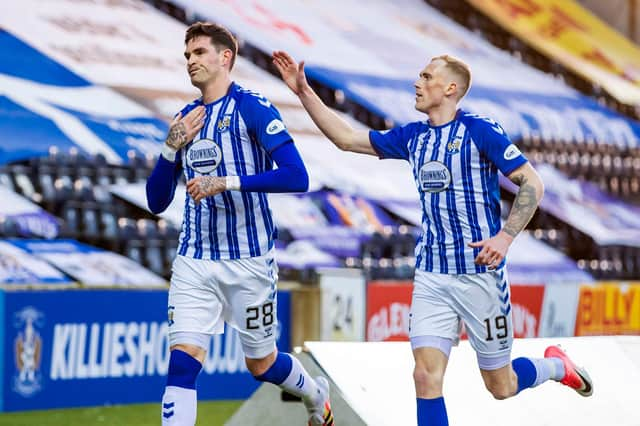 Kilmarnock's Kyle Lafferty (left) is in great form for the Rugby Park outfit.
Ten goals in nine appearances since joining the Ayrshire club in February indicate that the former Hearts striker is thriving professionally despite the personal tragedy. Lafferty's most enthusiastic supporter, Sonia frequently fought his corner on social media. Her ill-health and subsequent passing hit him hard, and every time he ripples a net she is firmly in his thoughts.
"She is my biggest fan, without a shadow of a doubt. She has always been there," says the Northern Irishman. "The amount of times I would pick up my phone or text her and say: 'Sonia, stay off Twitter, people are going to say bad things about me. Just ignore them.' She would be having a battle with them.
"She would never let anyone say anything bad about me and not having her around going to every game ... I've got her name on my wrist now. Everything I do, I will be thinking about her and every goal I score I will dedicate it to her and my family. She managed to see me live my dream of playing for Northern Ireland and Rangers. I am delighted she managed to see me to do that.
Kilmarnock manager Tommy Wright during a Scottish Premiership match between Kilmarnock and Motherwell at Rugby Park on February 10, 2021, in Kilmarnock, Scotland (Photo by Craig Foy / SNS Group)
"I really do think about her every single time I step out onto the pitch and every time I score a goal. I feel like she's up there cheering. I go into games wanting to put in performances for her and I think, if I help Kilmarnock stay in the league, it's something she'll be proud of me for doing."
'Sonia lived to see my dream'
Lafferty was playing in Italy with Reggina at the time of Sonia's death. He returned to Scotland three months ago to help Kilmarnock's relegation fight, but football pales into insignificance when compared to his family's emotions.
"It was difficult for me and my family at the time. My wife was very close to my sister so it affected her too," he says. "Football is my job and I need to try and produce the highest performance every day in training and in games. But first and foremost family is the most important thing to everyone. With Sonia she lived to see me live my dream. She passed away a happy person."
Kyle Lafferty is now a free agent. Picture: SNS
Lafferty feels comforted being back in Scotland with his family and playing under compatriot Tommy Wright, the Kilmarnock manager. He is April's Premiership Player of the Month and will consider staying at Rugby Park beyond the end of his contract this summer.
"I've known from a young age that if you are happy off the pitch you will perform on the pitch," he explains. "But, me being me, I have always done daft stuff and concentrated on football second to other things.
"I am happy here and outside football I am living in my own home, I don't have to travel for hours for games or training. I came to Kilmarnock because it ticked a lot of boxes for me. Knowing the manager and the faith and trust he put into me made me want to reward him with goals.
"I will try and stay in Scotland, that's my aim [next season]. I've done enough travelling abroad and being away from my wife and kids. I will try to stay in Scotland and if that's Kilmarnock then I will be absolutely delighted because I have loved every single day I've been here with the lads and the manager.
"I'm playing football with a smile on my face which is a nice bonus for me. I'm sure at the end of the season we will sit down and talk about what we want to do. I would obviously like to stay in the Premiership, but I have a great connection with the manager and I would like to play at Rugby Park with the fans in.
"I know it's a nice place to come to play so I am not going to say 'no' if we get relegated – but I would prefer to stay in the Premiership."
Still time for daftness
The daftness remains part of the 33-year-old's make-up. He isn't nicknamed 'Laffs' purely because it's a shortened version of his surname. "If you know me you'll know I'm a bit of a joker," he grins.
"Some of it probably helps the dressing room at times like this in the season. Every time I walk into a room they all watch. I've not done anything too daft but there has been a bit of banter.
"Last week wee Higgy, our analysis and fitness guy, walked to the toilet and I got one of the boys to give me the nod when he was coming. When Higgy came out of the toilet I jumped out and squeezed a bottle of talcum powder into his face. His eyes were red and it went everywhere.
"When he got his jumper back the next day there was still talc in it. It's just little things like that. Don't forget, I'm getting older so I can't do too many crazy things now."
With that maturity comes the realisation that time catches up with all of us. Even sportsmen looking to play into their late-30s.
"I was always told at a young age to go the gym and look after myself and I was like, 'ach, it will be fine'. I've been getting older, the game is getting quicker. I now have to look after my body – ice baths, eating well, stuff like that – or it does catch up with you if you don't prepare for games and don't prepare for training the right way. I think I've only realised that over the last year or two."
A message from the Editor: Thank you for reading this article. We're more reliant on your support than ever as the shift in consumer habits brought about by Coronavirus impacts our advertisers. If you haven't already, please consider supporting our sports coverage with a digital sports subscription.