Inside Robbie Neilson's Hearts sacking and the £5m gamble the club decided was worth taking
There was a moment, not long after Hearts had secured a return to the Premiership despite a stuttering end to their Championship title-winning campaign, when Hearts chief executive Andrew McKinlay was asked about Robbie Neilson's long-term prospects.
It sticks in the mind because it was unequivocal, measured, and demonstrated an understanding of football fans but also the different demands of a football board.
At that time, just as there had been during the manager's previous stint, when some punters hired a plane to drag a message across the sky, questioning the bottle and style, there were detractors desperate for his dismissal.
Having lost just three of the first 15 league matches in the second tier, they had won only three of the next 10 and, for good measure, there was an embarrassing Scottish Cup exit to Brora Rangers thrown into the mix for good measure.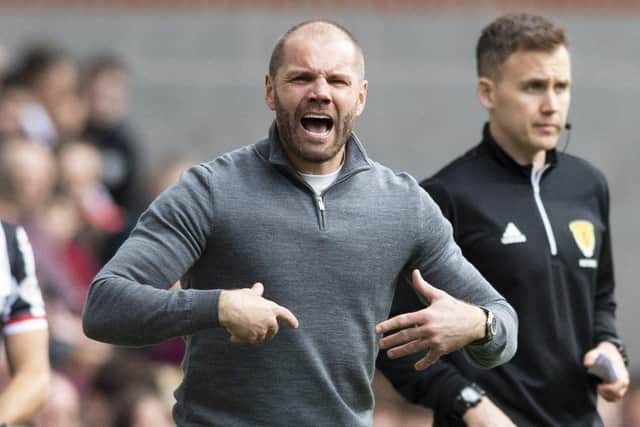 But winning three and drawing one of the final four fixtures Neilson still romped home 12 points clear to deliver on the club's objectives of title and promotion and remained in situ, with the board still confident in his ability to push on.
"I'm expecting us to start well and Robbie expects us to start well," said McKinlay. "I'd never call on fans to be patient because that's not the nature of being a fan. The fans will be what they will be and it's our job, to quote the great [Rudyard] Kipling, to stay calm while others around us are maybe not so calm. We know as well as anyone whether we're playing as well as we should be or could be."
Now, almost two full seasons later, prompted by five defeats on the bounce, with performances dipping well below what they should and could be, jeopardising this season's ambitions, the board decided to relieve Neilson of his responsibilities.
Last term, around this time, there was another bout of unsteadiness as the finishing line came into sight and they wrapped up the Premiership campaign with three defeats (two against the Old Firm) and a draw, as well as a Scottish Cup final loss. That stirred up more summer-time rancour but, given the fact Hearts finished 13 points ahead of their nearest challenger for third, it was, justifiably, ignored.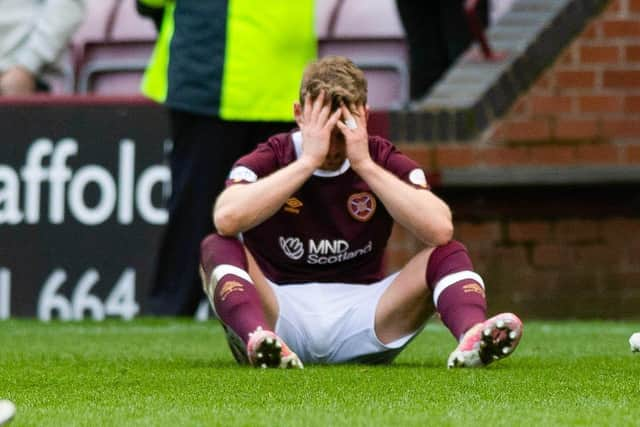 But it has not been as easy to accommodate this year's spring dip due to the fact that it coincides with others finding form, facilitating a sudden slip down the standings - a move that could cost the club around £5 million if it ends their hopes of European group stage football.
Not long ago it seemed unthinkable that the Gorgie club would not see out the season in the top three despite the historical hassles it has had in securing back-to-back third place finishes.
The last time was 19 years ago, emphasising the difficulty, and had the team simply struggled to make up ground after the effort of combining domestic and European competitions there may have been greater understanding in the stands and boardroom. But the reality is it wasn't that long ago that Aberdeen and Hibs needed binoculars to see them as they eased into third spot and started to move away from the pack.
At the start of February Hearts were 10 clear of Aberdeen. This weekend the Pittodrie side moved two ahead, while St Mirren are just one behind and Hibs are four, with a derby looming next weekend. Add to that tactical choices and a manner of play fans found increasingly unpalatable and the murmurs of disquiet had become more amplified.
And this time it wasn't the same voices; the pocket of fans who have never wanted Neilson, or the ones who jumped aboard after the Scottish Cup defeat to Hibs as the Leith side went on to win the trophy, or those who could not see past the Brora humiliation.
There was a dip in mood in the dressing room, which is only to be expected from a squad more used to winning than losing. But contrary to rumours, Neilson hadn't lost them.
It was the games he lost; the games they lost, that got him the sack. In the most recent round of matches his men lost to every team they are likely to face after the split, except Hibs. But they face them next week.
Bringing in a new man now is risky, though, and football fans always need to be wary of what they wish for. Hearts discovered that the last time he left, when they ended up in the doldrums. Aberdeen fans learned the hard way too when they wanted better than Derek McInnes but were left struggling to find their equilibrium. Hibs thought they could do better than Jack Ross, the man who delivered third place for them and while Lee Johnson may still deliver, there has been pain in the interim.
While every fan wants to see flair and good fortune, sometimes in a league as dog-eat-dog as the Premiership, where two teams dominate, the purse does not stretch to providing, let alone guaranteeing, both.
That is why the best boards take their time and stay calm when others are losing their head. In Neilson they had a man who delivered a couple of Championship titles, left the first time around with them sitting second in the league and then served up third place last term and the reward of European adventures this season. He could yet have finished third again but we will never know.
Someone who, despite the negativity of some fans, got what the club meant to the support and he admired their passion and high expectations. The demands they made of him, he made of his players.
But in recent weeks he and his men came up shy of the standard they had set. They weren't playing as well as they should and could. And, true to his word, that signalled time for McKinlay and the board to make their move.
Comments
 0 comments
Want to join the conversation? Please or to comment on this article.