'I still don't know': Hearts manager Robbie Neilson baffled by his red card as St Mirren lament penalty call
Hearts boss Robbie Neilson was sent to the stand as his team saw out a 1-0 victory over St Mirren to move six points clear in third spot in the cinch Premiership, but the Gorgie boss was not the only one to express bemusement at some of the officials' decisions.
Visiting manager Stephen Robinson had his own issues, questioning the booking of Keanu Baccus that had him "walking a tightrope" for the remainder of the match and the failure to award a penalty to his side following a 86th-minute Kye Rowles handball.
"I've been told it was a penalty and it was similar to other penalties that have been given recently," said Robinson. "All we want is a bit of clarity. It's not the referees' fault. There are all these people sitting watching, but they are not calling the referee over.
"When you look at some of the penalties given, it's incredible. I think the ruling is wrong, so it's not just about my team. I have no idea what's going on. It's soul destroying at times because you don't know what they will and won't look at. All the managers feel the same."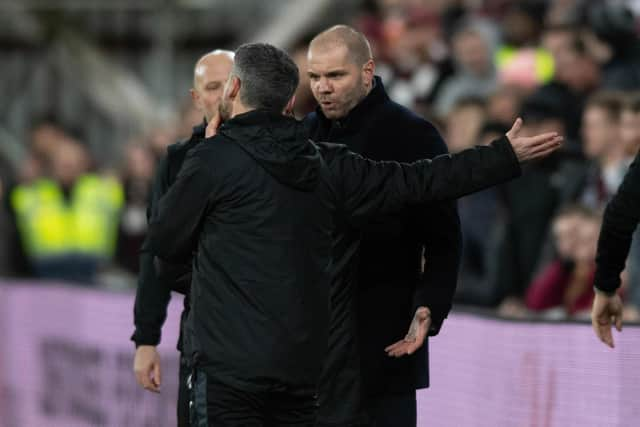 Despite expressing his frustration, Robinson was able to see out the game in the technical area. His counterpart was not so fortunate, with referee David Munro reacting after Neilson questioned one too many decisions. Irritated by St Mirren's decision to take a free-kick from the wrong position, he was shown a yellow card and then, in the 78th minute, his attempt to wind up the opposition by playing keep ball and delaying a throw-in saw him sent packing.
Neilson felt it was an overreaction, saying: "There's nothing you can do about it. You're dealing with referees and some are good and some are bad. I have just spoken to him in there and I still don't know the reason for it, to be honest with you. Some referees you can talk to, some you can have a bit of rapport with. Some have personality and can talk and understand it. And then there's others who don't have any of that. Unfortunately for me I think it was the latter this evening.
"The fourth official was brilliant, he was really good. But I don't want to detract from the performance with the referee's decision. It's part of football. I'll take it on the chin and I'll know the next time we have him that I need to start in the stand!"
Neilson was happier with the outcome of the match. "I'm delighted to get the three points," continued the manager, whose side have now won five and drawn one of their lat six home games. "When you play teams back to back it is always difficult because you kind of negate each other. But I thought we played well in the first half, we passed the ball really well. In the second half we were flat, you hope when you score the first goal they open up but St Mirren remained compact, they were hard to break down and were always a danger at set plays. So to see out the game with a clean sheet and to get the three points was great."