'I don't care if it's undermining the referee': Steven Naismith hits out after latest Hearts VAR decision
Referees' inability to get to grips with VAR is damaging Scottish football's reputation, according to Hearts interim manager Steven Naismith.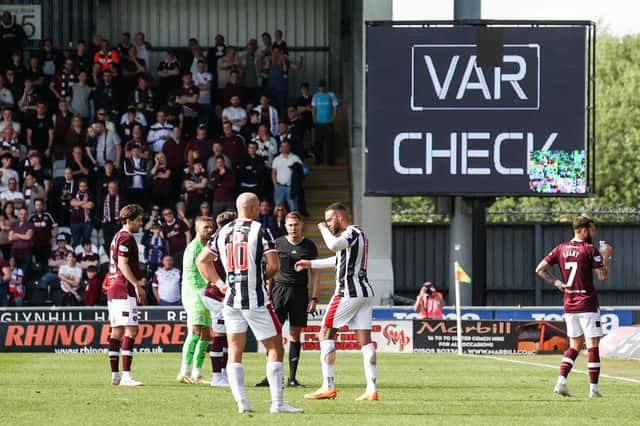 His side have been the victims of two controversial decisions in the past two Premiership games, as both Alex Cochrane and Peter Haring were sent off. The Gorgie club opted to challenge the latter and this week the appeals panel downgraded the punishment to a yellow card, freeing up the Austrian to play in Saturday's do or die battle with Aberdeen for a top-three league finish.
But Naismith feels the inconsistencies and poor decision-making by the VAR officials has become shambolic. While every club in the league has felt hard done by at some stage this season, Naismith believes that it is even more galling when the stakes are so high. With kudos and a guaranteed mult-million pound reward waiting for the club that finishes third, and bags the associated spot in the group stages of European football next term, errors in judgement could prove costly come the end of the campaign.
"I'm disappointed to say the least," said the former Scotland international and fledgling manager. "[VAR decisions] have had an impact in our last two games. I personally didn't think the Cochrane one was a red card but the process is what it is, we accept it and we move on. But, [against St Mirren] the biggest disappointment is that I have the same view of the incident as the referee, the fourth official and assistant and none of them got the right decision, which I couldn't believe.
"They thought it was aggressive and endangering an opponent but then they have the fail safe of VAR that is meant to stop that but doesn't. The consistency is not there at all, this was meant to come in and help the referees … all I want is to get the right decision. Simple.
"I don't care if it's undermining the referee. Get the right decision and that solves a lot of that debate and confusion. It definitely needs to be looked at. It dilutes the product for everybody else because they look at it and think 'what a shambles that is'. I just think there has to be a better way of getting a better product that minimises the mistakes that are being made."