How Hearts sacked Robbie Neilson: Glasgow summit meeting, no sleep, cancelled Easter meals, the boo-ometer
As a lawyer, it's hardly surprising that Andrew McKinlay is a stickler for accuracy. The Hearts chief executive seemed affronted by an innocuous question concerning the circumstances of Robbie Neilson's sacking.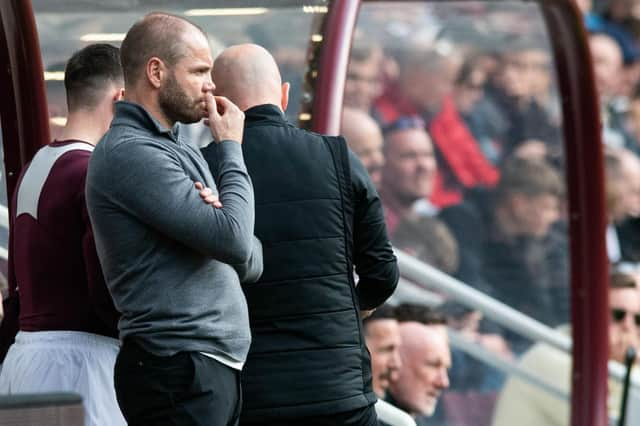 He was asked whether he had woken up on Sunday morning already knowing Neilson's fate was sealed, given the extent of fury directed the manager's way after and, indeed, during Hearts' 2-0 home defeat to St Mirren the previous afternoon. "You are suggesting that I slept on Saturday night," answered McKinlay.
There was precious little sleep, he admitted. He was vexed by knowledge that his Easter Sunday plans would likely have to be altered, at his mother's inconvenience as much as his own, following an emergency board meeting. "Was the die cast?" he asked. "From my own perspective I had a view, but I knew there would then be a board discussion. And as our board discussions always are, they are challenging and robust and, at the end of the day, we come to a board view. Did I know for definite on Sunday morning what I would be doing for the rest of Sunday? No, not definitely. But I suspected. So yes, I had to cancel taking my mother out for Easter lunch."
He understood what had to be done. And he knew who had to do it. Even at a club owned by supporters, someone must take ultimate responsibility. As CEO, that falls to him. It wasn't down to the two Foundation of Hearts members with seats on the board, nor was it on chairwoman Ann Budge's shoulders. It certainly wasn't something benefactor James Anderson would be getting involved in. Joe Savage, the sporting director, is not a board member. He, too, was spared such a disagreeable task. So McKinlay it was who drove to an undisclosed meeting place in Glasgow to deliver the news to Neilson. "I can't tell you where it was as you'll be camped outside the next time it happens," he said. Sometimes gallows humour is the only option. They spoke for half an hour. 'It's OK, Andrew, it's football," Neilson told him.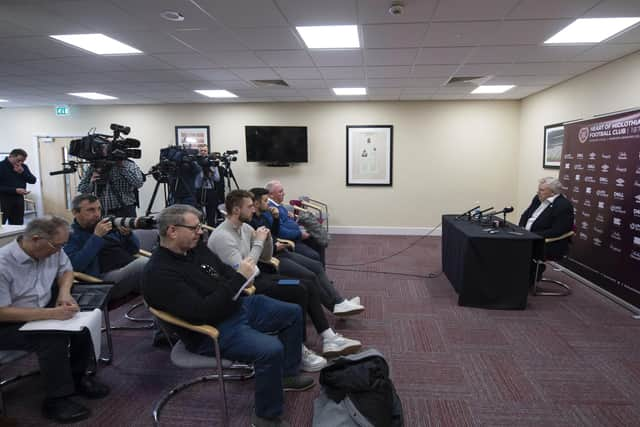 In situ since August 2020, it's perhaps surprising it has taken McKinlay until now to experience sacking his first manager. After all, Hearts are now searching for their ninth manager in 12 years. It was always likely sooner or later, and, in the case of Neilson, it seemed only a matter of time. He was a dead man walking. Some claim he hasn't been able to recover from throwing away a 2-0 lead against Hibs in a Scottish Cup fifth round replay in his first spell as manager.
McKinlay argued that Neilson might not have lasted as long as this had the Hearts board really been guilty of bowing to mob rule, one charge levelled at them. He referenced the poor run when Hearts started to make hard work of winning the Championship title during the pandemic-shortened 2020-21 season. This period also included a 2-1 Scottish Cup defeat to Brora Rangers, one of the club's worst results of all-time.
"OK, we were lucky that we didn't have fans in the stadium, but I saw the toxicity even outside the stadium, with people trying to break in and people putting banners upside the chairwoman's house," he said. "I've been well aware from day one that the support are vocal. They're very strong in their views and they're entitled to it. This club is privileged - the fans own the club but they don't run it. They (the fans) have two seats on the board through the Foundation. So the voice of the fan is very clearly heard at the heart of the board. That's how we gauge the voice of the fan.
"If it was based on the boo-ometer, then that was pretty high quite a few weeks ago."
Defeats against Motherwell, Kilmarnock and Aberdeen made life very tricky indeed for Neilson. But the boo-ometer was registering off the scale after the limp loss to St Mirren. Bile spilled down from the stands as Hearts slipped to their fifth successive defeat and a sixth in seven outings. That would have been hard for any manager to survive, never mind one operating with the third biggest budget in the league and who was already dividing the support. The sense that his critics now made up the majority was hard to ignore. "You are conscious of it," admitted McKinlay. But the chief executive did not try to dress up sacking Neilson as being for the manager's own good. "He doesn't need my pity," he said.
Nonetheless, the negativity was not doing anyone any favours, least of all the players. They are reported to have held a meeting between themselves after the final whistle on Saturday. According to McKinlay, while this might have happened, player power wasn't a factor. Neither was the identity of Hearts' next opponents – Hibernian. "A coincidence," he said. "People have different views on that one. In some ways that could make the decision harder. Some would say 'why don't you give Robbie the derby? Robbie's got a good record in the derby'. That's the way the fixtures have fallen.
"We go into the derby, everyone is saying the pressure is on, but I would argue we're not the team fighting to be in the top six," he added. "Yes, we have other things we're fighting for, but I think there's a lot of pressure on Hibernian this weekend. The record of Hearts against Hibernian over the last two or three years, and in the history of Hearts-Hibernian, is very strong. We always go into that game with confidence."