'He's fishing': Hearts' Steven Naismith has say on Hibs boss' comments and chaotic Tynecastle clash
Steven Naismith tried to shy away from the war of words initiated by Hibs manager Lee Johnson in the aftermath of a derby match that served up more red cards than goals and left Hearts celebrating fourth place and their city rivals settling for fifth.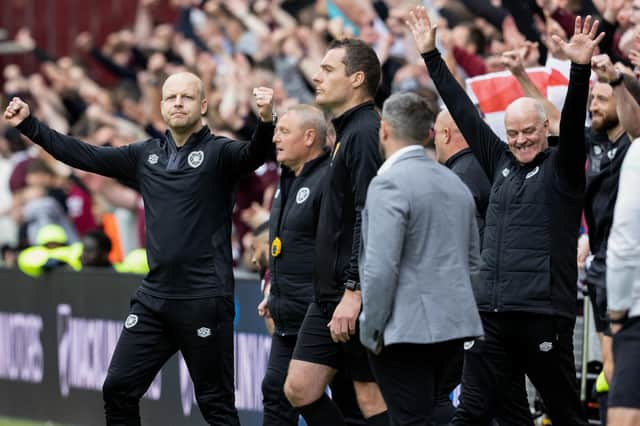 In a tousy contest that finished 1-1 peppered with moments of controversy and madness, a post-match melee was sparked when fists flew as the bosses shook hands. But Naismith said he was determined not to be drawn into the chaos that eventually saw his goalkeeping coach Paul Gallacher and out-going goalkeeper Ross Stewart red carded.
"I'm not sure [what caused it] to be honest," said the interim boss, who will now sit down with the club bosses to decide whether he will continue in the role on a permanent basis. "I was shaking hands and getting out of there, I wasn't getting involved in anything. I know these situations can turn into things, especially in a derby with high emotions, but I was just buzzing to get the result and enjoy it with the fans."
In the build up to the match the Hibs manager had predicted a spiky encounter and said he did not see the characters on either bench standing down, especially in a derby. "That technical area is wild. We're all loose cannons at that point. Everybody wants to win," he added. The comments did not go unnoticed by Naismith. "As he said, the touchline is a manic place, or whatever it may be that he said," commented Naismith. "But I had to watch, I was one yellow away from getting a suspension already, so I wasn't involved."
But he came out swinging after Johnson claimed that he was being disrespectful to predecessor Robbie Neilson, taking a pop at the interim bosses' lack of managerial experience. "He's fishing I think, that's what he's doing," continued Naismith. "I've got a 15-year career at the top level. I've managed to pull things from some of the best managers around Britain. I've been in a role for the last two years under arguably Scotland's best manager for a long period of time. I'm not naïve to think I know everything, but what I have done is my homework. I've had two solid years of good coaching. It's part of the game."
Finishing fourth and ensuring the Tynecastle side has seen out the season with the city bragging rights and automatic qualification for Europe, he says that Alex Cochrane's 29th-minute red card, which gave Kevin Nisbet the freekick opportunity to cancel out Oda's opening goal, forced them to work hard for the result.
"It's probably a red card," admitted Naismith. "If it's not a penalty and he's denying an obvious goal scoring opportunity, then it's a red card. We managed to ride it out and get the result we needed. When you get a red card, the next goal becomes pivotal. What you can't do is go toe-to-toe and say 'you attack and we'll attack'. I don't like that. I thought we managed the game really well. You do what it takes to get the result, simple as that. I know these situations can turn into things, especially in a derby with high emotions. I was just buzzing to get the result we wanted and enjoy it with the fans."