Hearts' Steven Naismith: I've got a plan of what I want to do when time comes
The proof has been in the pudding for Steven Naismith, and he has liked what he has tasted so far as Hearts manager.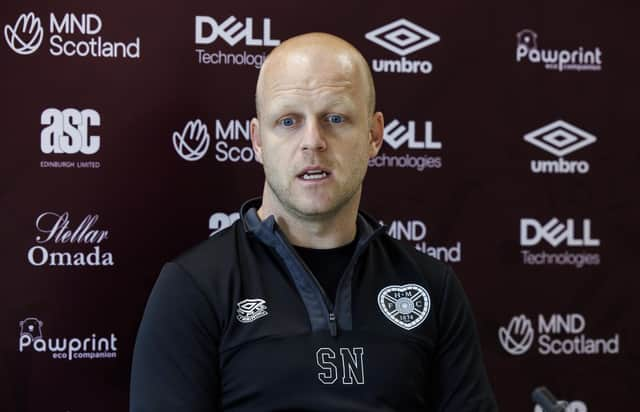 The 36-year-old has had a desire to move into the dugout for some time, stretching back over a decade to his playing days at Rangers. Even still, he confesses there were doubts as to how he would take to the position once he was presented with an opportunity. That opening came last month when Robbie Neilson was sacked and Naismith, the club's B team head coach in the Lowland League, was asked to take over as caretaker for the remainder of the campaign. Four weeks, and three matches, on and the former Scotland internationalist is happy to report he remains just as determined to carve out a future in management as he was before experiencing the role properly for the first time.
"When I went into Rangers, I thought about being a coach and staying in football," Neilson explained. "I was thinking about what I would do when I finished playing. I started asking questions and coaches would talk you through things and I loved it. As I got older I realised I wanted to be the manager and the guy in control. It had to be my way, not being a back up. It is okay when you are learning but you want to be your own man.
"From talking to the club at the time [of Neilson's exit], there were general discussions about what happens in the summer and obviously I had a previous role. At that moment, you don't know if you'll enjoy it or whether you're ready or whether you think it could or couldn't have gone any better. That will be the part, I'll come to the end of the season and make the right call on it. But I've enjoyed every minute of it so far."
After Naismith was handed the reins on an interim basis, Hearts chief executive Andrew McKinlay talked in glowing terms of the former Kilmarnock, Rangers, Everton and Norwich City attacker. He was adamant the Scotland coach could use his spell in charge to convince he was more than a stop-gap. However, with Saturday's trip to face St Mirren potentially pivotal in the team's quest to overhaul Aberdeen's five-point lead in third, not to mention hold off the competition from rivals Hibernian just a point below in fifth and St Mirren three further points adrift in sixth, Naismith remains focused on the short-term.
"I've not thought beyond [the next four games] but I've got a plan of what I want to do, whether I'm the manager here or somewhere else, whenever that time comes," Naismith continued. "I wouldn't say I'm frustrated but it's tough to think it's only this short period [at Hearts]. But I know how football works. To get opportunities you need to react and be ready and take them. It's like being a player and someone's injured on a Friday and you're a young player and you get an opportunity. That's your chance. This is very similar to that, and that's how I see it."
Meanwhile, Naismith has admitted Hearts did not appeal Alex Cochrane's red card against Celtic for fear, like Aberdeen's Graeme Shinnie, of having an extra match added to his two-game ban as punishment. He added: "The process is why we don't appeal it. There are previous cases that have come and gone, and the consequences of them were part of the thinking. I would rather have him available than risk him missing more games."