Hearts' Stephen Kingsley adds a unique touch following in the footsteps of Gary Naysmith, Takis Fyssas and Lee Wallace
Stephen Kingsley seems to enjoy the prestige of being Hearts' left-back, thriving where players like Gary Naysmith, Takis Fyssas and Lee Wallace once prospered.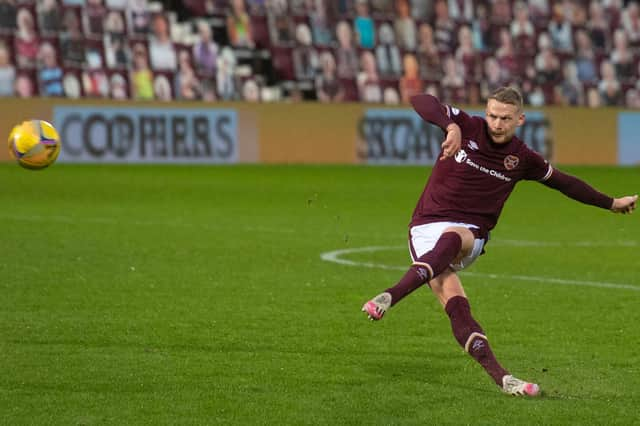 It is a role which demands many facets in order to sate a demanding support base. You must defend, attack, show pace, strength, intelligence, technical ability and – perhaps most importantly – a certain touch of class.
Kingsley possesses all of the above in line with his aforementioned predecessors. He wants to put his own imprint on the position by scoring more goals after signing a new 18-month contract.
Goalscoring full-backs are a rare and highly-valued commodity and the 26-year-old already counts five strikes from his 16 Hearts appearances to date. It is a ratio Naysmith, Fyssas and Wallace would envy and sets him apart to a degree.
Influential
"I've heard a lot about those guys but it's up to me to try and bring my game to the team and help out as much as I can. I've come up with a few goals and a couple of assists so hopefully I can continue to do that," he said.
"I want to be influential on the pitch, get forward and try and make an impact. The more games I get under my belt, the more games I play, the more confident I get in myself and my body, I can give more to the team.
"The new deal has been on the table for a little while. With the games we've had over the last little while I just wanted to focus on getting those out of the way. It's nice to get it over the line and get it done."
Kingsley is already such a valuable asset that many Hearts fans would prefer his new agreement stretched longer than 18 months. "To be honest, I just think it worked out well for both parties with everything going on with the pandemic," he explained.
"We still don't know where we're going to be in terms of crowds and fans and everything going on. In other times it might have been different, but for this time it just worked out well for both parties."
With Hearts seven points clear in pursuit of the Scottish Championship title, returning to the Premiership is critical to the futures of both Kingsley and his club. "Of course it is, I came here on one-year deal and that was my plan – to try and help the team get back to the top-flight," he said.
"Speaking to the manager, he laid out what his plan was for the next couple of years and that really interested me. To sign for another year is really exciting for me, to be part of that project and try and help the team as much as I can.
"It was something the manager really wanted to highlight when I was speaking to him when I first came and regarding this contract. We don't just want to get promoted and that would be it.
"We really want to kick on and get back to where this club should be, which is the top end of the Premiership. That was one of the reasons I felt confident in coming here in the first place and signing this extension now. I wanted to be a part of that."
Appreciation
Although he is already a Scotland internationalist with English Premier League experience, Kingsley's appreciation of what Hearts can do for his career is unshakeable.
He only arrived at Tynecastle Park in October and seems to be thoroughly enjoying himself even in the second tier of Scottish football. "I can only speak from how my experience has gone so far but I've been really enjoying it so far.
"I'm absolutely buzzing to play in front of the Hearts crowd, it's one of the other reasons I wanted to come here in the first place. I've heard about it from a lot of people who have experienced that and I want to experience that myself.
"Fingers crossed, hopefully by next season if things get back to some sort of normality we'll get the crowds back and I can experience that myself. There are plenty of things to look forward.
"I've been really enjoying my time here, it's only been half a season. For the family that was a major point for me. We just had a little one in the summer and it worked out perfectly.
"Being around the family at this difficult time, it's just all fitted in nicely and that was a big reason for extending my stay here. I'm feel comfortably and enjoying my football. That's a massive thing really."
Craving games
Particularly given the problems he endured in England. Kingsley's career was on an upward trajectory from Falkirk to Swansea City to Hull City before injuries intervened.
He has spent the last few months regaining confidence, sharpness and stamina for challenges ahead. His Hearts career is still in its infancy but there is every chance this could become a long association between player and club.
"My time at Hull was blighted by injuries, unfortunately," recalled Kingsley. "It was a club I was really wanting to look to kick on at following my time in the Premier League and Swansea.
"That didn't happen, it was a tough three years. Coming to Hearts, I want to get those games I was craving. Thankfully it's been half a season with a good run of games and I hope that continues."
A message from the Editor: Thank you for reading this article. We're more reliant on your support than ever as the shift in consumer habits brought about by Coronavirus impacts our advertisers. If you haven't already, please consider supporting our sports coverage with a digital sports subscription.