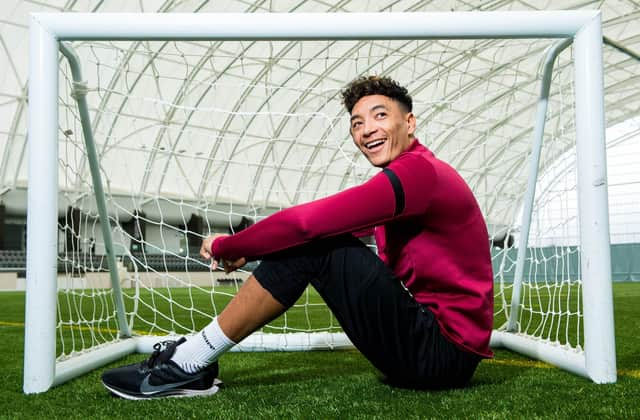 Hearts midfielder Sean Clare is unbeaten at Easter Road
Sean Clare is undefeated as a Hearts player at Easter Road and fully intends continuing the trend in tonight's Edinburgh derby against Hibs.
Since arriving in Edinburgh in September 2018, the English midfielder has emerged with two victories and a draw from three visits to Leith.
He played in December 2018 when Olly Lee's goal gave Hearts a 1-0 win, then came a 1-1 draw in April 2019 before Aaron Hickey's memorable strike won the derby for the Tynecastle side last September.
Hearts visit Hibs again tonight for a vital Premiership meeting in their quest to avoid relegation. Whilst not intending to look to the past, Clare is aware of his derby record and the need to maintain it.
"I was there for the 1-0 and the 2-1, so I don't think I've lost there. I've played three, won two and drawn one," he said. "We generally go there and do well but we can't dwell on past performances. We can take belief from them but it's a fresh game.
"Hibs have changed since we last played them, we've changed, so it's going to be a good battle. I believe it's one we can go and win. If we do the right things, we can go there and get the three points."
Hearts cross the Capital fresh from knocking Rangers out of the Scottish Cup on Saturday. Hibs beat Inverness Caledonian Thistle the previous evening and the two clubs will now meet in next month's semi-finals.
"Obviously Saturday was a great performance and a great win but we need to draw a line under it," said Clare.
"It's league time now and we've got a massive game, so we need to take the positives from the Rangers game but we can't dwell on them. We need to focus on how we can go to Hibs and get a win.
"The important thing for us at the moment is to pick up points, regardless of whether we had beaten Rangers or not.
"So, the focus and the aim doesn't change. We want to get off the bottom of the table and get out of the relegation battle that we're in at the moment.
"We know it's going to be a really tough game but it's one we've shown we can win, so that's what we're going to go there to do.
"We didn't build on the Rangers win the last time, for whatever reason.
"So, we need to put in full performances in every game between now and the end of the season and that will give us the best chance of getting out of this mess.
"Everyone will be up for it, from both sides, and the fans will there in full voice, as they always are, which will definitely help us.
"It will be a tough game but the derbies always take care of themselves. The atmosphere is electric throughout the game, so it is a good game to go back to after a high."
Clare revealed that the Hearts manager Daniel Stendel was behind his move from right-back to right midfield for the Rangers match.
"It was the manager's decision. We had a couple of injuries in the right-back position and the manager feels I can fill that position in the way he wants, especially in an attacking sense.
"We've got Michael Smith back, who is a better defender than me, because he's played there a lot longer. So, whatever kind of style the manager plays, he's got two options.
"Realistically, I'm happy to play wherever if I can help the team and I'm sure all the players are the same. I don't mind where I play as long as we go out there, put in a performance and win the game."