Hearts reaction: One massive fillip for Jambos, marvellous Martindale, why rush for gamechanger, player ratings
We pick out three talking points from Hearts' 1-1 draw with Livingston in the cinch Premiership.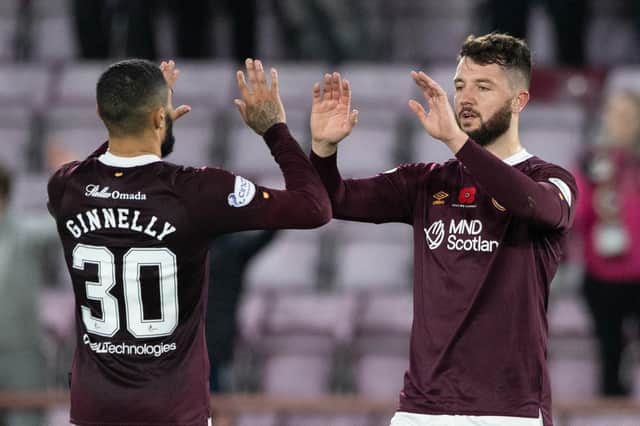 This was rushed through ahead of the World Cup break but it is still not clear why. Widely accepted that there are far too many teething issues, the controversies are coming thick and fast and they are having a detrimental effect on games. This Hearts v Livingston match is a perfect example.
It seems crazy that the authorities decided not to use the extra time afforded them by the World Cup break to really fine-tune things and their failure to do so is turning match days into a mess. Scottish football may not be overflowing with the best technical players but among its selling points are the passion and the tempo of games. VAR is gradually draining that from matches, though.
Players are hesitant about celebrating goals, fans' jubilation is delayed or short-lived and, even more worryingly when considering the game as a spectacle, the flow and pace of the play is being interrupted far too often and for far too long. And if play is to be interrupted, match day officials need to make better use of the monitors and come to their own conclusions.
After years of trial by TV and retrospective punishments, it is astonishing that those on the pitch are unwilling to make more use of the tv cameras and instead rely on the voice in their ear. Especially, when they are the ones – not the video referees – who cop the flak as they head up the tunnel.
Craig Halkett
After the return of Kye Rowles, there was further good news for Hearts as fellow centre-half Craig Halkett made it through the final period of the match unscathed. The reliable defender displayed his no-nonsense attributes, coming on to plug the defensive hole left when the Aussie was red-carded, and there were no signs of the injury that had kept him on the sidelines for much of this season. It was another fillip for Hearts after such a trying time with injuries and it offers promise for performances and point-gathering when they return from the World Cup break with more options to pick from.
David Martindale
It should be no surprise that Livingston are once again punching above their weight. While people expected the likes of Aberdeen, Hearts and Hibs to be flexing their greater financial clout and tussling for third place, Martindale has the West Lothian club tucked in fourth place and causing problems for all the big hitters round about them. He does it without fanfare or a desire to blow his own trumpet and, more often than most, is able to come in after the dust has settled and call each game honestly and fairly.
Each season he has to rebuild as several of his most prized-assets are plundered but somehow he gets the right characters, the right players to fit the mould and the club's system of play. His team have already taken points off Rangers, Aberdeen, Hearts and Hibs this season and merit their league position. If they can steer clear of injuries it is going to be tough for those with European aspirations to get past them.
Hearts player ratings
Gordon 8; M Smith 7, Sibbick 7, Rowles 6, Cochrane 7; Kiomourtzoglou 6; Ginnelly 7, Devlin 7, Snodgrass 5, McKay 7; Shankland 7. Subs: Forrest 6, C Smith 5, Halkett 6.