Hearts reaction: How some fans may have cost club at Hamilton, striking it rich, so many captains
We pick out some talking points from Hearts' 2-0 win over Hamilton Accies in the Scottish Cup ...
Unnecessary smokescreen
Through to the Scottish Cup quarter-finals yet again, there has been so much for Hearts to be proud of this season, with Europe and another third-pace finish a strong possibility. In the stands, too, they have plenty to sing about. A fan base that not only saved their club but now own it through the Foundation of Hearts, they have a season ticket waiting list and sell out most home matches. They also take a vocal away crowd to most away matches.
But, still, some among them just can't help themselves and on Friday night they cost the club, reputationally and, quite possibly, financially, as they sent flare after flare onto the artificial pitch. While there were no VAR delays for once, there were significant delays as staff dealt with the unwanted intrusions caused by the idiots who successfully managed to smuggle the contraband through the gates despite searches.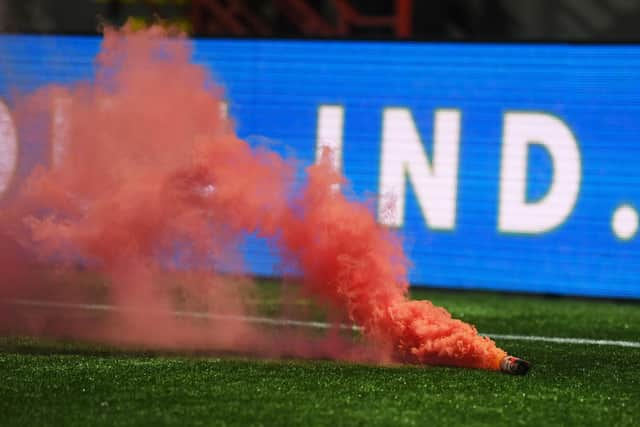 According to Hamilton Accies, the smoking pyros caused sizeable damage to the playing surface. Those involved probably won't care and some will claim it is just punishment for the Championship side daring to play on astro. But it is moronic and costs clubs money that could be spent on improving facilities or squads.
As a fanbase who should understand the financial burden of running and sustaining a football club better than most, it is crazy behaviour. What many fans – of all clubs – don't understand is that often the money for repairs, whether that be damaged seats or scorched or melted pitches often ends up coming out of their own purse, which in Hearts case means the bank accounts of those paying their monthly direct debits to the Foundation.
The Gorgie Ultras have helped raise the volume and add to the songbook. They make a big enough impression and added extras like flares are not necessary. They should appeal to whoever is throwing the flares, in their ranks or outwith, to cut it out and focus on the positives. While manager Robbie Neilson called for more flair from his players on a night where it was more wham, bam than the romance of the cup, there could and should have been fewer flares.
Up front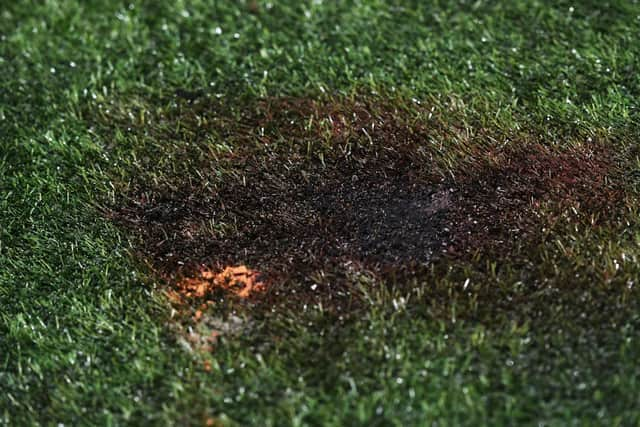 When Liam Boyce was added to the list of long-term injured there was understandable concern but Lawrence Shankland, in particular, has more than compensated for the Northern Irishman and the club have ensured that there are able stand-ins when the Scotland international is missing. As well as Josh Ginnelly, January arrivals Yutaro Oda and Garang Kuol have offered greater strength in depth, while on-loan Wigan striker Stephen Humphrys has contributed memorable goals, points and cup progress.
There is still a lot to come from several of those players, especially the youngsters who are still settling into the capital, the cub and the squad, but that level of back-up has been missing in recent years and the fact that even without Boyce and Shankland, they became the first club to book their place in the Monday night's Scottish Cup quarter-final draw, demonstrates the club's growth and ambition.
Captains galore
Looking for leadership, Hearts manager Robbie Neilson has several options in a dressing room that has gained even more experience this year – some recruited, some simply honed by the pressures of playing in Europe and in domestic competition. There is a burgeoning expectation from a far more engaged support and with that comes pressure to deliver but even when shy of their best, as they have been in recent weeks, they have found ways to keep picking up points and, on Friday, moving into the latter stages of the Scottish Cup competition.
With club captain Craig Gordon injured and back-up skipper Lawrence Shankland suspended there was some conjecture around who would be the stand-in at Hamilton. The armband, in the end, was gifted to Robert Snodgrass, one of several who does not need a strip of material to coax, cajole and command respect in the midst of a match. But it was a reminder of what Hearts are chasing as they try to convince the former Scotland midfielder to sign a new contract that will keep him at Tynecastle beyond the end of the current season.