Hearts must stay top in case season ends early as Robbie Neilson admits Scottish Cup doubts
Stay top of the league in case the season is ended prematurely. Hearts' aim over the coming weeks is simple, for they know only too well the harrowing alternative.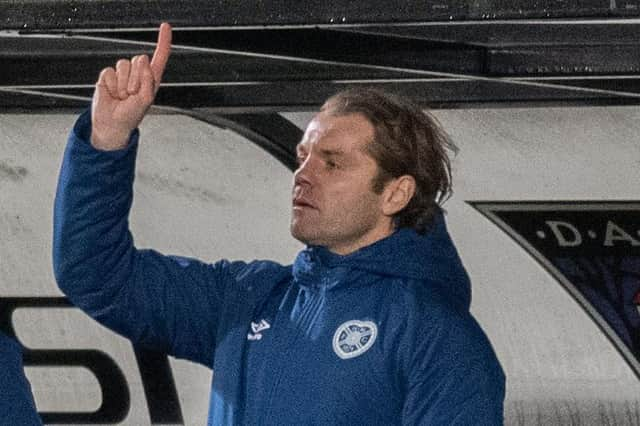 Rising Covid numbers across Scotland plus Celtic's mindless Dubai trip brought the suspension of Scotland's lower-league football earlier this week. Every division except the Premiership and Championship are in hibernation until at least February 1.
For Hearts, it brought back unpleasant memories of last March's premature curtailment which led to their enforced relegation. This time they can continue playing for now, however the threat of a repeat call is real.
The Edinburgh club sit five points clear in the Championship table ahead of tomorrow's visit to Alloa Athletic. Their only focus is staying there. If the campaign is to be ended before all 27 fixtures are completed, they want to ensure promotion is theirs.
"Yes, 100 per cent. We have to make sure we stay at the top of the league and hold our position," said manager Robbie Neilson. "We've managed to do that so far and we have to continue it. It's so important to keep winning games.
"We've another game on Saturday we need to go and win. Dunfermline, Dundee, Inverness and Raith Rovers are all pushing and in a shorter season, you need to make sure you stay in front as long as possible."
Neilson is the Championship Manager of the Month for December thanks to four straight victories, but his team stuttered with a 3-1 defeat at Dundee in their last outing.
"It's down to the players, they're the ones who go and do it on the pitch," said Neilson of his award. "They deserve the credit for it because they're the ones doing it.
"I've got a couple now but they don't mean anything, let's be honest. It's all about winning the league at the end of the season, that's all that matters. So you say: 'Thank you very much', and then you move on to the next game."
Like most others, the next game is far from straightforward. Hearts lost 1-0 after extra-time at Alloa in November in a shock Betfred Cup exit. They now return on league business.
"You want to win every single game, there's no doubt about that, but there's a number of managers in any league, who want to do that. Sometimes it's not like that. It's how you react after you lose a game.
"We're sitting in a good position, we have won 80 per cent of the games, if we can continue that for the rest of the campaign we will win the league. We have to keep it up. For me it's about not overreacting if we win a game well, but also not overreacting if we lose.
"It's about getting back on it and getting some consistency, whether that be playing-wise or just the attitude about the group. We've managed to do that so far this season. We need to continue it.
"It's an unprecedented set of circumstances for everyone, it's a difficult league this year. We don't know when games are going to be, we don't know if games are going to go on, we don't know what players we are going to have available.
"So when they do take place it's all about getting three points to help us get over that line."
Neilson admitted relief that the Championship is continuing. With weekly testing at all clubs now mandatory, he is more confident about the season being played to a conclusion.
"To be honest we were unsure how it would work out. When we got the email through it was a bit of a shock that League One, League Two and below had been postponed. We weren't sure what was going to happen.
"Thankfully from our perspective they have kept the league going. Now we have to make sure we keep ourselves in a position to get promoted.
"The first key thing for us is that the league has continued, and second the clubs need to test now. That gives us that extra wee bit of protection.
"We know players will be tested weekly so clubs will keep on top of things and clubs will have the finance to do it after the grant from the government. So we should see games getting completed."
The Scottish Cup is less straightforward. It was also put into cold storage until the start of next month. Hearts are due to make a 425-mile round trip north to face Brora Rangers in the third round but there is no set date for the die at the moment.
Having reached the last two finals, those at Tynecastle are eager that they get the chance to make it three in a row. "We would love the cup to go on because we have managed to get to the last two finals and we would like to go as far as we can again," said Neilson.
"I don't know where that one will go. By the time lower league teams start up again we are going to be two or three games behind in the schedule and that has to be fitted in somewhere.
"You also have the games that the League One and League Two teams are going to have to rearrange in their own leagues as well. So I am not sure where that one will go, to be honest."
A message from the Editor: Thank you for reading this article. We're more reliant on your support than ever as the shift in consumer habits brought about by Coronavirus impacts our advertisers. If you haven't already, please consider supporting our sports coverage with a digital sports subscription.