Hearts hitman Lawrence Shankland opens up on Hibs solo dance, Scotland recall and new goal target
Lawrence Shankland sat in the away dressing room at Easter Road and tried to drink the moment in.
But there were no backslapping teammates with whom to savour the moment, no coaching staff to ruffle his hair, and perhaps tease him about it being all very well reaching 20 goals for the season, the first Hearts player to do so since John Robertson in 1991-92, but he'd be 'no match for Robbo until he struck another hatful against that lot out there'.
There was no one. Not a soul. He had worked so hard to create space for himself during the game itself, wriggling free to score such a significant second in Hearts' 3-0 Scottish Cup win over their rivals, and yet here he was left with what felt like acres of it. The loneliness of the 20-goal-striker.
Shankland was barred from returning to the playing area after he picked up a late and, some would say, decidedly soft red card for a challenge on Hibs defender Rocky Bushiri. He is now suspended for the fifth round clash against Hamilton Accies next month.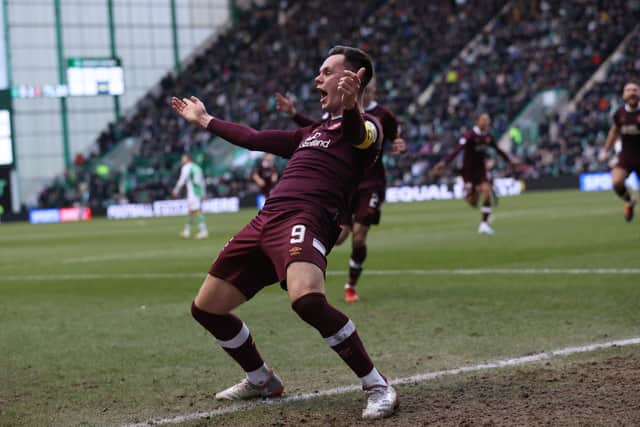 It's fortunate then that Nicole, his partner, was alert to the situation. She FaceTimed Shankland and held up the phone so he could get a taste of the atmosphere generated by the frolicking players and away joyous fans. "I was jumping around in there myself!" he reported.
It was a surreal way to celebrate achieving something no Hearts player had managed to do for over 30 years, long before Shankland was even born. With four months of the season still left, who knows what number the striker might finish on? Shankland and Hearts face a tough trip to Livingston this afternoon and then host Rangers on Wednesday. The season is rolling on and he's clearly in the groove. Can he reach 30? Why not? Not surprisingly, Robertson was the last Hearts player to surpass that number as well, when he scored 31 times in the 1987-88 season.
"I've got to (aim for that), aye!" said Shankland. "I've got to look up the way. I've got to 20 this early in the season. I'm not going to put a precise number on it but I want to keep scoring and if I can reach that number, great."
As Robbie Neilson reported after the Hibs win, Robertson was as sharp as during his playing days when he pinged a message to the Hearts manager almost as soon as Shankland's goal had hit the back of the net. He knew the moment would come eventually and he was looking for the striker's number.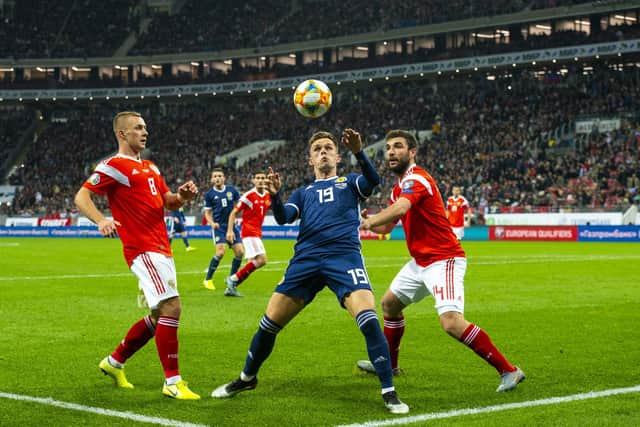 "He dropped me a WhatsApp message right after the game," reported Shankland. "I noticed it when I got on the bus. I was sharp getting back to him – I didn't want to leave him (waiting) too long."
Many interpreted Shankland's celebration, when he puffed out his chest and threw his arms out wide, as being a deferential nod to how Robertson used to greet scoring a goal. One Twitter poster put the two images side by side and while they were certainly alike, that was reading too much into it. The post-goal moments were a blur. Shankland's outburst of joy stemmed as much from knowing there was no way back for the hosts.
"I got sent that by a few people on social media but it was pure coincidence," he said. "I had never actually seen that (Robertson celebration) before. The photos are quite similar so it's fitting the way it worked out."
Everything seems to be working out again for Shankland after a Belgium chapter that while probably character-building, was not necessarily a step forward for him as a player. Beerschot were struggling at the wrong end of the Jupiler Pro League and were eventually cut adrift at the bottom and relegated.
What did he learn there? "I learned how to defend!" he said. He often found himself playing right midfield or even, at times, right back. "It was just a whole different experience for me," he said. "There were many learning curves on a personal level outwith the football.
"I had to be patient initially to get in the team," he added. "And when I did get in we weren't in a good position and I had to learn to deal with that. So there will be something that further down the line I will be able to look back and say 'that helped me'. If people want to say it's improved me, that's fine."
The last of four caps to date for Scotland was in 2020 in a 1-0 defeat to Slovakia. His continued good form at Dundee United after a goal-laden spell at Ayr United convinced Steve Clarke to take the bold step of calling him up from the Championship, where the Tannadice side were at the time.
Kevin Nisbet's goalscoring form for Hibs then edged him out of the reckoning despite United's promotion to the Premiership. Agonisingly, he missed out on a Euro 2020 place and has rarely featured in the international conversation until this season, when his form for Hearts means it is surely impossible for Clarke to ignore him ahead of the start of the Euro 2024 qualifying campaign in March, with Scotland kicking off with games against Cyprus and Spain.
It's not as if he is untried at this level. He is already off the mark and also scored a penalty in a nerve-shredding penalty shootout play-off win over Israel en route to the Euros.
Taking responsibility is what he does. It was no surprise Neilson turned to him to act as stand-in skipper after Craig Gordon's horrendous double leg-break before Christmas. "I like to do the right thing and lead by example," said Shankland. As for his hopes of a Scotland recall, he knows all he can do is keep on scoring. "The national team will take care of itself," he said.
Comments
 0 comments
Want to join the conversation? Please or to comment on this article.