Hearts documentary: Daniel Stendel, David Brent, Gary Locke and Sunderland 'Til I Die - how Scottish football fans reacted
The first episode of the BBC's This Is Our Story: Inside Hearts aired this evening and it got football fans talking.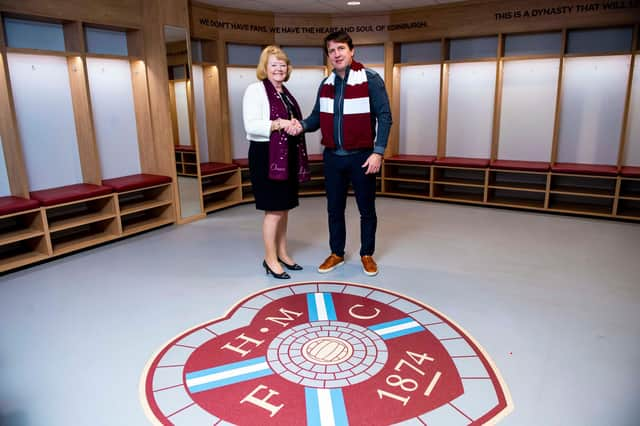 The three part documentary charted Craig Levein's sacking during the 2019/20 season, the interim spell of Austin MacPhee before ending with the appointment of Daniel Stendel.
There was also a focus behind the scenes, from ground staff to security to the club's retail as well as a look at the success of the club's women's team as they won the SWPL 2.
@HeartsGoals: "Gary Locke IS Heart Of Midlothian FC."
@LewisBroadie: "This is what we're missing nowadays [referring to Vladimir Romanov], be great to see Ann Budge boxing Liam Boyce."
@DannyDenholm: "Everyone of these documentaries requires a Brent like figure. Will big Gary Locke be that guy? Hope so - legend."
@Jo_Caulfield: "Surprised the Hearts documentary hasn't been relegated to BBC 2."
@rbm1895: "This Hearts documentary's leaving a lot to be desired. Had so much potential but it's just a very naff version of Sunderland till I die. Too much MacPhee on the training ground barking out random names."
@R1130_: "Hopefully it gets better as it begins to go more & more tits up, but that Hearts documentary hasn't a patch on Sunderland Til I Die."
@Graeme01266284: "1st part of that Hearts documentary wasn't as cringe as I thought it would be."
@allanj_03: "Needs do be more documentaries like this Hearts one on BBC Scotland for other teams in Scotland. After watching Sunderland Til' I Die and great programme on Fort William and Hearts I really want to see more of these on other Scottish teams! Our game needs more coverage."
@JCannon93: "Whoever picked the tunes on the Inside Hearts documentary needs a pay rise. Got me chomping at the bit for a proper weekend sesh in Edinburgh."
@aileen43_x: "Tried to watch the Hearts documentary, took me a wee while to find it cause I thought it would be on the Comedy channel."
@StotheGridge: "The Hearts documentary great Monday night telly."
@KevinKyle1981: "Good viewing, grateful to have played for such a wonderful club."
@perthtopaisley: "Budge talking about applicants with previous experience at "international clubs". Did Roy Keane and/or Davey Moyes apply? The mind boggles!"
@McBookie: "I understood Gary Locke more when he was speaking German."
@EddieNisbet: "I miss Daniel Stendel more than I'm prepared to admit."
@Benm501: "A full pre season and no Covid I still genuinely think Stendel would have been a class appointment."
@jambodaveyk: "Really enjoyed the first episode of - This is Our Story: InsIde @JamTarts from @BBCSportScot tonight. Although it reminded me how gutted I was/am that things didn't work out for Daniel Stendel."
@Real_C_Wilson: "If Gary Locke speaking German isn't the best moment on TV in 2020 there's something wrong with the voting panel. Magnificent."
@meestah_sahmon: "Ann Budge going through the job applications after sacking Levein; "Here's one, from a Radimir Vlomanov. Experience on the continent & in Scotland. No contact details though & for some reason the second page of his application is a list of Beatles records he has for sale."