The players had left the field in the dying embers of a second Elizabethan age. When they re-emerged 15 minutes later, they were stepping out into a new age – literally.
The Queen was dead. An announcement confirmed this at 6.30pm. King Charles III was now the reigning monarch. This smooth transition of the crown contrasted with how things played out on a dismal night in Gorgie.
The Tynecastle club were immaculate in their own efforts to comply with protocol for such an unusual occurrence as a reigning monarch's death being confirmed midway through a European fixture. The European element is significant. It meant Uefa were charged with putting into place an emergency procedure. It was a football version of London Bridge Is Down.
Enough black armbands for both teams were located. A decision to switch off the adverts flashing around the perimeter of the pitch was successfully implemented. News of the Queen's death was relayed by announcer Graeme Easton at the start of the second half. The information was already spreading round the ground via social media. Generic instrumental music was played at a notably lower volume.
No birthday greetings were read out and neither was there any information about the club's next game. It was already looking likely that tomorrow's clash with St Mirren would be postponed, along with all other Scottish professional football matches this weekend.
In football terms, perhaps in other ways as well, Hearts might prefer to draw a veil over the European tie as quickly as possible - it was a good night to bury bad news like a 4-0 home defeat. And yet it will go down in history.
A recurring question in the years ahead will be, where were you when you heard Queen Elizabeth II had died? Around 15,000 or so will be able to say they were gathered at a stadium three or so miles from the official residence of the monarchy in Scotland. It was the only game of senior football on in Britain when the news was confirmed.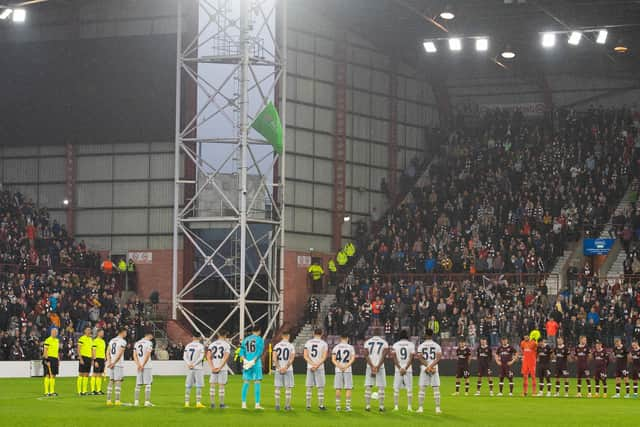 Heart of Midlothian are one of Scotland's most historic clubs. A team fought andnearly all died for King and country after conscripting en masse in 1915. Hearts played a Scottish Cup tie three days after the late Queen's father, George IV, passed away on 6 February 1952. A 47,152 crowd observed a two-minute silence before Raith Rovers were beaten 1-0 with a late Willie Bauld goal.
Hearts' greatest era in the mid-to-late 1950s might seem like a long time ago. But it still took place within the late Queen's reign, which also covered Dave Mackay's debut for Hearts in 1953 and Alex Young's debut two years later. Ten of the club's 16 major honours were won with her as Queen.
It's hard to analyse Thursday night's match without acknowledging the context. Footballers are professionals but Hearts were undeniably poorer in the second half.
Even the Turkish visitors, whose fate was landing amid a shifting of monarchical plates in Britain, wore black armbands. Turkey abolished their monarchy 100 years ago. "Even my grandparents wouldn't have remembered a past full of sultans," London-based Turkish journalist Alp Ulagay later told me.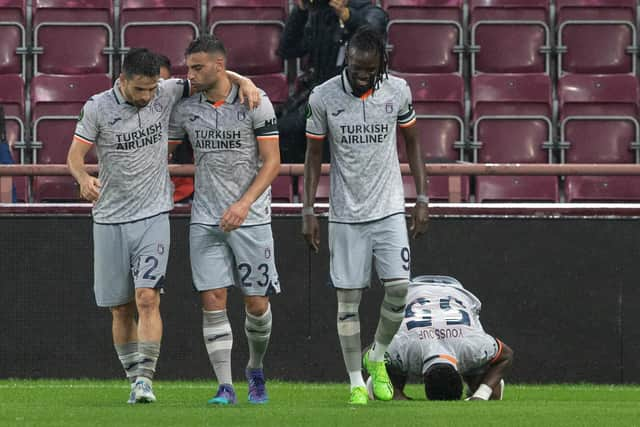 Nevertheless, Basaksehir were comfortable about taking part in the mourning. Manager Emre Belozoglu was careful to send his best wishes "to the people of Great Britain" afterwards.
The home players were banned from speaking to the media. Hearts manager Robbie Neilson answered only two questions. It meant avoiding dwelling on the disruption to the minute's silence that Uefa had instructed should take place at the start of the second half.
Again, this was unprecedented. Has there ever been a minute's silence at the start of a second half in British football before? When will there be one again? Likely never. Maybe that's a good thing.
Nobody was quite sure what was happening. Substitutes arrived late, skipper Craig Gordon, unsure when the minute was meant to have started, turned away too early. There was disunity, and worse, in the crowd too.
A shout of "F*ck the Queen!" from the Wheatfield Stand seconds in caused a rumble of commotion that included boos when a section of the main stand began singing "God Save the Queen". Polish referee Krzysztof Jakubik cut things short.
Hearts issued a statement condemning the actions "of the minority of supporters who took it upon themselves not to respect last night's minute's silence". It added: "The club apologises, on their behalf, to those offended by their senseless behaviour during the time of national mourning, and we hope that lessons will be learned ahead of future tributes at Tynecastle Park."
Such a regrettable episode has prompted introspection and possibly some confusion among fans. Mike Hamilton, from Edinburgh, was drinking in the Golden Rule with his brother, Ken, afterwards. "There are factions within the support," he said. "These factions don't deeply divide people, they are surface level. People just have different views.
"I was in Zurich watching Hearts last month and this sort of thing came up. There were fans with Union Jacks. Are Hearts a Scottish club or a British club? There are people with very different views on it, but they are still able to share a beer with each other."
The atmosphere was not typical of a European night at Tynecastle in the first place. It got notably more subdued. Hamilton puts this solely down to another poor performance from the hosts. "The fans were flat because we were losing," he said. "If Hearts were winning, it would have been different.
"As it was, we got humbled 4-0 by a very good team. We reacted as we would have done two weeks or even two years ago." Perhaps. But little else felt normal.