Hearts captain Steven Naismith: You do anything to win cups. 'Unlucky' isn't good enough. You're still a loser.
One Scottish Cup, two League Cup and three league title medals are safely tucked away in Steven Naismith's cabinet at home.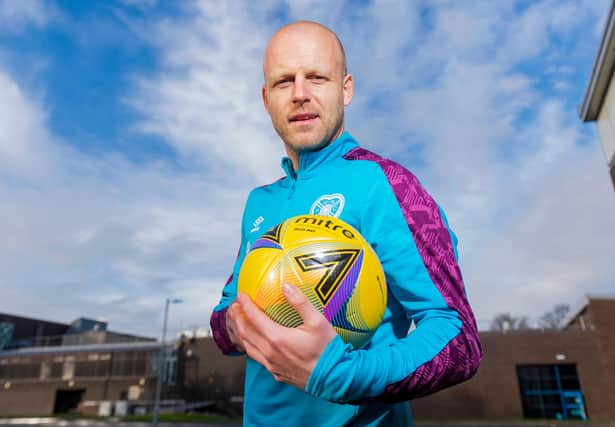 Chances to increase that haul are dwindling as the striker ventures further into his 30s. He doesn't need reminding. Tomorrow is one of those rare opportunities as he captains Hearts in the Scottish Cup final against Celtic.
Naismith cares not how victory might be achieved, only that his team prevail. The 34-year-old knows the kind of pressure on Celtic having earned the above accolades as a former Rangers player. He intends to use Hearts' underdog status as an advantage.
"For me, it's the same feeling. I want to win the trophy because it's another medal, another achievement," he said. "It's slightly different being captain, which is something I've not done before.
"That brings a bit extra but my mentality is the same: Go and win because it's there to be won. As you get involved in Cup finals, you understand that the occasion does fly by. Before you know it, you're looking back on it.
Enjoy it for years
"So I'll tell the players to make sure they enjoy it while they're going through it. We've been in the last four semi-finals and been in the last Scottish Cup final.
"It could seem that it comes easy. It's not. You can go many years without getting close to a final. So enjoy it, yes, but understand that it's a game of football. Win it and you can enjoy it for years to come."
Naismith has suffered only one defeat in four cup finals – with Kilmarnock in the 2007 League Cup showpiece against Hibs. "In my first year at Rangers, I was cup-tied for the League Cup final. Every other cup final I've been involved in, we've won."
The 2009 Scottish Cup final sticks in his memory as Rangers lifted the trophy after a narrow 1-0 win over Falkirk thanks to Nacho Novo's goal. Naismith hopes this Hearts team can take a similarly determined approach tomorrow.
"In 2009, I remember being desperate to get on, and you just want to win. You can get too caught up in a way of playing. Just win the game. In 15 years' time, nobody remembers how you won it.
"In life in general, you have people who want it, people who want it more, and people who are successful. You've got to have more of those guys, players who will do anything to win.
Not good enough
"You can't have players saying: 'Oh, we did well, we were unlucky, it was a good day.' That isn't good enough. You're still a loser. Simple as that. So you need the type who will do anything to win, especially this week."
If Hearts have enough of such leadership, does that mean Naismith will bark less at colleagues during the match? He isn't committing to anything.
"Am I having to moan less, then? Oh no, I don't think that will ever change, whether we're 4-0 up or losing," he laughed. "It's just that desire to win. I've been there. I've been on the winning side.
"They are the best memories you'll make in football. Whether that be a League Cup a Scottish Cup or a title, they're the best days in your football career – when you're winning trophies."
That point sharpens with each passing year. "Yeah, the chances of doing it are becoming less likely, the older you get," said the forward. "I wouldn't say it's better than any other trophy because every one is great.
"It's just another opportunity but I probably would enjoy it more. The more experience you have of doing something, the more you know how to enjoy it. We need to go out there and do the hard work first."
Celtic are chasing a historic quadruple treble against the backdrop of fan unrest. Demonstrations in recent weeks have included calls for manager Neil Lennon to be sacked along with the club's board due to a run of poor results.
All the attention is on Lennon and his players and Hearts are fully aware of the intensity. "Without a shadow of a doubt, we can use that," said Naismith. "Not just because of how they're recent form has been, although that's one thing we'll look at as a squad.
Old Firm demands
"Being at the Old Firm, drawing or not winning, not creating chances – it's not good enough. That's the demand that is set by both clubs. We've got to use that. We've got to understand the pressure on them.
"So we get the basic side right, defend well, then be brave and composed on the ball. We can't be rushed on it. We'll get good chances. Building the frustration is an element of it but the best way to beat Rangers or Celtic is to keep the ball.
"We can't get sucked into just kicking the ball long. We've got good players and need to show that. We can use the confidence we've built this season."
Naismith missed last year's Scottish Cup final between the same clubs through injury whilst on loan from Norwich City. Celtic won 2-1 but only three Hearts players from that day will be involved tomorrow – Michael Smith, Christophe Berra and Peter Haring.
"It's a different team. We were set in our way of playing then. Things are certainly different now," explained Naismith. "In terms of personnel, we've got more people around the club who have won trophies."
A message from the Editor: Thank you for reading this article. We're more reliant on your support than ever as the shift in consumer habits brought about by Coronavirus impacts our advertisers. If you haven't already, please consider supporting our trusted, fact-checked journalism by taking out a digital subscription.