Hearts' Cammy Devlin has Messi shirt... now he plans to 'leave one on' Argentina icon in Australia rematch
Cammy Devlin has Lionel Messi's shirt but now he is looking for something even more special - a win over arguably the game's greatest player and his World Cup winning team-mates or at the very least the chance to line up against them.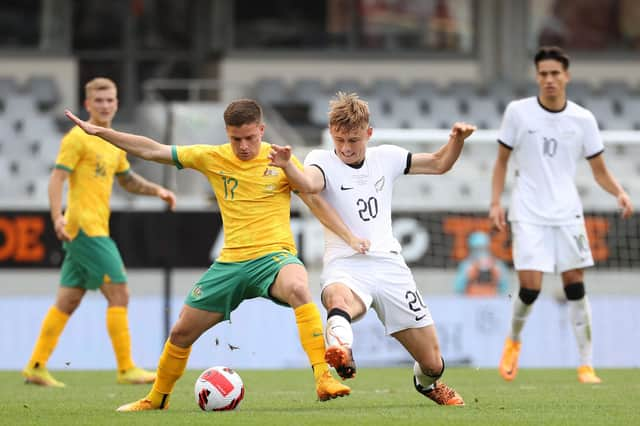 The Hearts midfielder may not be the biggest but, such was his expertise in bagging mementos, he made a sizeable imprint on the Qatar World Cup. Even without managing any game time.
Photos and videos of him did the rounds after the Socceroos met the competition's eventual winners in the last 16 because, while the men on the pitch did a solid job, it was Devlin' ability to claim Messi's strip at full-time that dominated social media.
Now he wants to add memories of actually playing against his hero to the mental vault.
Along with Hearts colleagues Nathaniel Atkinson and Kye Rowles, the 25-year-old is part of the Australian squad currently in China for a training camp. They are scheduled to face the World Champions, in a friendly, in Beijing, next week.
"It would be good to see him again," said the bustling star of his possible reunion with Messi. "But I don't think he'll recognise me. Obviously he's a freak of nature so it would be pretty cool to see him play live again.
"I would love to play against him, 100 per cent. I would love to leave one in on him," added Devlin, accepting, in self-deprecating form, that the footballing genius may prove more elusive in game mode than he was when it came to swapping tops.
"I remember during the game sitting on the bench and just watching him up close. I've never done that before when I'm on the bench. I'm usually raging or just watching the game. But I was just fixated so much on him. To get on the park, get dribbled past and have the chance to bring him down would be ideal.
"I remember I would wake up with my little brother in the early hours in Australia before school to watch El Classico and him. Then being there and seeing him live, it was bizarre."
With a short break between wrapping up the Scottish season on May 28 and returning for pre-season training on June 27, Devlin managed to make a quick stop-off to visit his mum and dad for a week en route to China. But he says the sacrifice is worthwhile if it helps cement his place in the Socceroos squad and helps elevate his chances of making it to more major tournaments.
"Just being at a World Cup was the coolest thing and something I would never have dreamed of growing up. I've been lucky to be at Hearts; it wouldn't have been possible without coming here and being given that opportunity. Just being in and around that environment… just training was special.
"I wasn't lucky enough to play but just being there and seeing the quality of opposition you're up against was fantastic. You find yourself just locking eyes on one player, maybe someone in your position. Against Argentina, it was definitely Messi. Just watching him and seeing the things he can do is inspirational."​​​​​​​​​​​​​​​​​​​​​​​​​​​​​​​​​​​​​​​​​​
Comments
 0 comments
Want to join the conversation? Please or to comment on this article.