Hearts boss Robbie Neilson's response to 'turn it around' question as St Mirren boss reveals winning game plan
Hearts boss Robbie Neilson believes he can turn around the current situation at Tynecastle Park after the team dropped to fourth in the Premiership.
The team were booed during and after a 2-0 loss to St Mirren, their fifth defeat in a row and sixth in seven games. The head coach came in for severe scrutiny with chants for him to go by a large number of home supporters.
"Yes, of course I do," was Neilson's response after being asked if he believed he could turn it around. "I've done it before and it's part of being a manager. You're not going to win every single game and we're going through this period which has been difficult, but we have to continue to believe in what we're doing and the processes we're having. We have to build the players' confidence and then get through it."
As for the dip in form, he said: "At the moment we're losing first and second contacts at key moments. We've been chopping and changing the team as well through selection and injury. We lost the goalkeeper and the striker today and we don't have that consistency.
Ultimately we're going through a difficult path. We have to get back to the basics of football at times. You can sometimes make it overly complicated, going for this or that. We felt today, going for the 4-3-3 then it would get those basics for us."
He added: "You just need to keep winning. Look, the fans have been outstanding my whole career here over a number of years. They put in more money than anyone else through season tickets, daily tickets and the Foundation and they want to see us winning and we're not doing that. There's a frustration there from everyone, from the fanbase, from the coaching staff and the players. And you have to accept when you're at a big club, when you don't perform and get results you're going to get flak. The only way to change that is to win games."
'Press high or sit'
Meanwhile, St Mirren boss Stephen Robinson is refusing to look further than trying to secure top six, joking "can we still get relegated? I'll sleep better when I know we can't get relegated", but knew his side could come to Tynecastle Park and win with a game plan which needed to be refined after the first 20 minutes which had "nervousness from both sides".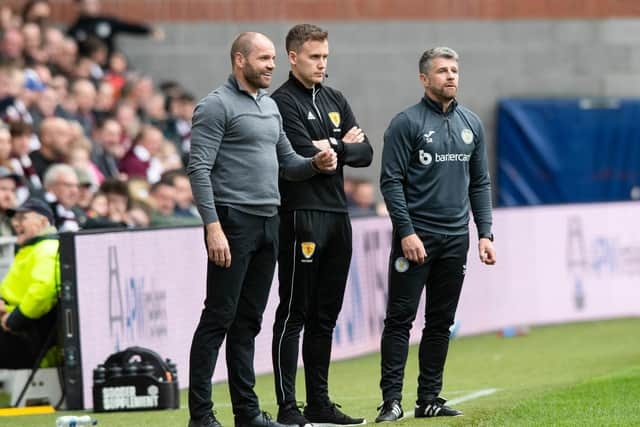 "We were caught between whether to press high or sit where we usually sit, but we changed it after 20 minutes and after that, we changed it and we felt comfortable and forced Hearts into areas that we wanted them to play in and took the ball off them," he said.
"Our game plan was to let them play out from the back and get into areas where they were a bit more open. When people make mistakes it's difficult because their crowd got onto them a bit and it gave us momentum. After 20 minutes we went back to what we do and we were successful."
He added: "The squad we have here have got a real belief in them, We believed we could come here and win today - there was no bravado in that."
Comments
 0 comments
Want to join the conversation? Please or to comment on this article.