Hearts and Newcastle starlet Garang Kuol opens up on 'surreal' spell and his chats with Eddie Howe
Things have moved quickly for Hearts on-loan striker Garang Kuol and while he comes across as a calm and composed kid on and off the pitch, even he is amazed at how his career has progressed in a matter of months.
Having signed his first professional contract with Central Coast Mariners in June, he made his first A-League start in December. By then he had already been to the Qatar World Cup, where he became the youngest player to feature in the knockout stages since Pele, in 1958. He had also signed a pre-agreement to sign for Newcastle United in the winter window.
Immediately sent out on loan to gain experience, he said there were many good reasons he chose to join up with several of his fellow Socceroos, at Hearts. They were all validated as the Gorge club collected all three points against St Mirren at a packed Tynecastle on Friday.
"I'm just trying to focus on the future, and playing and training well every week," said Kuol. "That's the main focus. But, yeah, sometimes I'm sitting and thinking: 'I can't believe I'm actually here'. It's just surreal and I just have to thank God."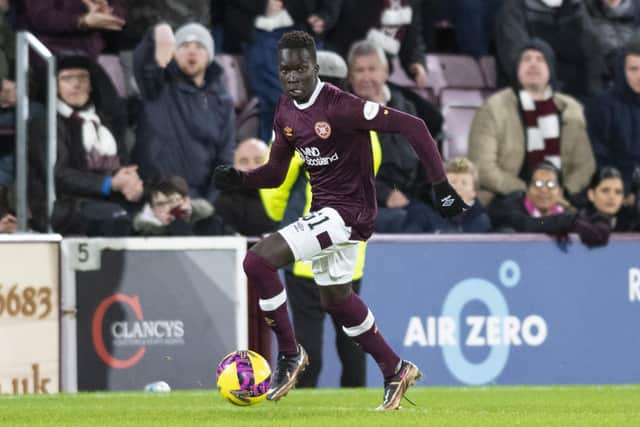 That win allowed Hearts to tighten their grip on third place and while manager Robbie Neilson plans to ease Kuol into the hurly burly of Scottish football, the 18-year-old appears to be pushing for more, if his debut appearance is anything to go by.
While fellow new boy James Hill was given a spot in the starting lineup, taking full advantage of that opportunity to impress, Kuol came on for the final 13 minutes. But there were flashes of his attacking qualities as he proved he has the potential to build on his World Cup input, posing a threat whenever he got on the ball. And, he should have had an assist after he surged forward in the 89th minute and set up Stephen Humphrys but the Englishman missed.
As calm and composed in front of the media after the match, as he was on the pitch, his countryman Kye Rowles revealed there had been excitement in the dressing room, where he was unable to wipe the smile off his face.
"It's a special crowd and when you get an atmosphere like that, with people supporting you, it lifts you up," said Kuol. "It was a good win for the boys. The support was unreal and I'd like to thank the fans for coming out. They gave the boys a push and it was a nice hard-fought win. There are a great bunch of lads here and I thought this was the best decision for me."
The presence of Aussie colleague's Cammy Devlin, Nathaniel Atkinson and Rowles helped lure him but so did the possibility of learning from prolific goalscorer Lawrence Shankland and develop under manager Neilson. "Seeing the quality that they have gives me confidence to come in and do the same," added Kuol. "I had small discussion with [Eddie Howe, Newcastle boss] and he said go wherever you'll play the most. Development is key for young players. The gaffer here said he'll play me. All he said I need to do is work hard. He told me he'll bring me off the bench and then gradually I have to work my way into the starting XI."