Hearts and Livingston involved in 'shambles' as both managers left troubled - 'it's literally killing the game'
On a day marred by VAR confusion and frustration, Hearts manager Robbie Neilson has urged the authorities to use the World Cup break to rectify the major teething problems and prevent further mayhem when teams return to competitive action after the technology played a big part in his team's 1-1 draw with Livingston.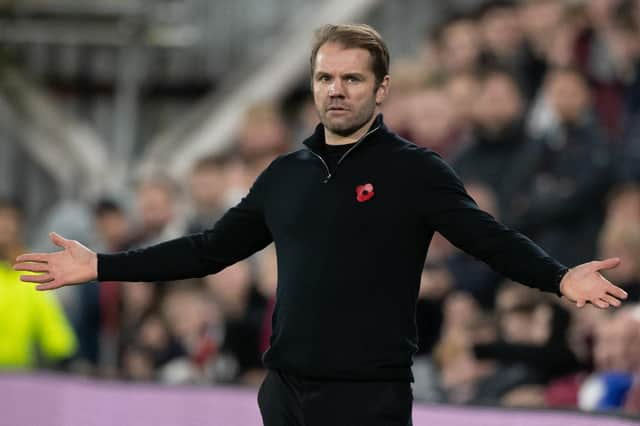 His opinion was supported by his Livi counterpart David Martindale who bemoaned the fact that it is becoming harder to suss out who is actually calling the shots in matches. There were several delays throughout the competitive stalemate as goal checks, penalty shouts and red card decisions were influenced by the men behind the monitors – and neither gaffer was impressed.
"It was a shambles, wasn't it?" said Neilson. "We've got this period now where hopefully it gets better. We don't need three or four minutes to check every single decision. It needs to be done a lot quicker. Anyone can watch a video and within three replays make a decision. Then it gets fired back. But we're stopping the game for everything. It's got to get better because that's going to kill football.
With Livingston 1-0 up VAR awarded a penalty and Kye Rowles was sent off for a tug of Joel Nouble's shirt. The spot kick was saved but that too went to a video replay. "I asked the fourth official the rules on it and he didn't know," continued Neilson. "Rowles pulls him back, 100 per cent. But then he goes on and gets a shot away so are you denying a goalscoring opportunity? Then the play goes on and there's three or four phases. I don't know but the problem is I don't think anyone knows. If the officials don't even know what chances have we got? I watch the English game and they check decisions, but they continue to play the game while they're checking and then they'll tell the referee. We're stopping everything and it's literally killing the game. Honestly, you could be here all day talking about it."
There were further grievances as Hearts Alex Cochrane escaped a red card and then the home team scored a stoppage time equaliser, with Martindale convinced that if referee Craig Napier had been called to the monitor, things may have been different as he is adamant there were fouls and a handball in the build up.
"I think it should be pulled back and the goal shouldn't be given," said Martindale. "I'm disappointed to be leaving Tynecastle with a point. Why the referee hasn't been called over to the monitor on a couple of occasions I don't know. Big Joel has the ball and I think there is an infringement on him. But, he's honest and he stays on his feet so I can kind of see why it wasn't given. The ball then drops to Michael Smith who plays a fantastic ball to Alan Forrest, who handballs it in that phase of play. Apparently it was accidental, but I don't think it was.
"The challenge on Nicky Devlin from Cochrane, how he doesn't get asked to look at it on the monitor I'll never know. I am actually getting to the stage where I don't know how the game is being reffed. If it's not our foul then surely it's our throw because you assume he got the ball. We never got the throw. So what happened? That was wrong today."