Hearts ace Craig Gordon rails against penalty decision ending clean sheet run
Hearts star Craig Gordon was left fuming that his clean sheet run came to an end from a disputed penalty.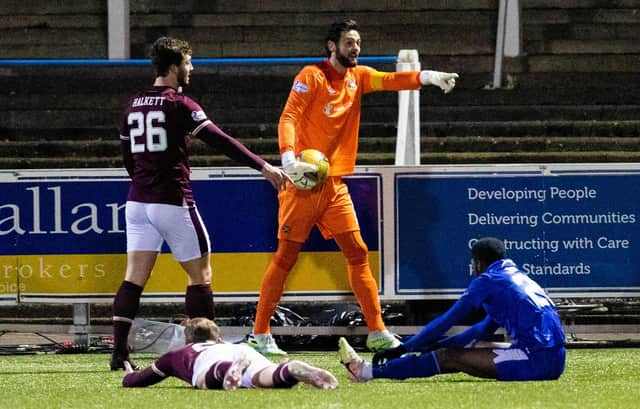 However, he was required to pick the ball out from the back of the net when Ayo Obileye beat him from the spot kick.
The goal arrived before half-time and came about from a disputed penalty award from referee Collin Steven.
Gordon questioned the decision at the time and even after full-time the Scotland international was still "mad".
The penalty concession saw his run of three consecutive clean sheets come to an abrupt end. The last time Hearts were able to keep four in a row was back in the 2017/18 season.
"I just think it wasn't a penalty – simple as that," Gordon said. "It's on the linesman's side and they give penalties for that now.
"Really unhappy about it. I was going for four clean sheets and then that's the goal you lose.
"I don't want to get myself in trouble. I am still absolutely mad about that. I'm trying to remain calm and choose my words carefully but really upset that was the reason and the way that we lost it."
It appeared Queen of the South winger Isiah Jones stuck his leg out at Stephen Kingsley to make contact before hitting the deck.
"But that's what strikers do now," Gordon said. "You just hope that the officials see if that's the person that initiates the contact. But if they don't then they get a penalty.
"I'm just disappointed that's the goal that beats us and stops me getting four clean sheets."
Finishing line in sight
Gordon has called on his team-mates to keep pushing forward towards the finish line.
The point saw the league leaders extend the gap to 13 points ahead of second-place Raith Rovers who weren't in action this weekend.
With 16 games under their belt and only 11 remaining, no team has played more than Hearts with Greenock Morton the team's next opponents at Tynecastle Park on Saturday before another Friday fixture away to Inverness CT.
"We just want to keep winning," Gordon said. "Keep winning, keep getting clean sheets and we are disappointed we didn't get them on Friday.
"Our games are going to start running out sooner rather than later so we just have to keep going and grinding out wins when we have to, especially away from home.
"And take the full points when we get back to Tynecastle. It's about winning.
"Conditions have been very difficult, it's been a harsh winter for everybody, games getting called off.
"Having to go away from home and playing on an Astro that's one of the older ones, it's difficult. You have to try and win games no matter how you manage to do it.
"We didn't manage that this time but still came away with a point."