'Glimmer of hope': Hearts know severity of situation as Aberdeen match becomes cup final
It has been a long, hard season but when the final whistle sounds, memories of their European adventure will linger even longer in Hearts' minds – which is why they have not given up on third place and the opportunity that would afford them to build on those experiences.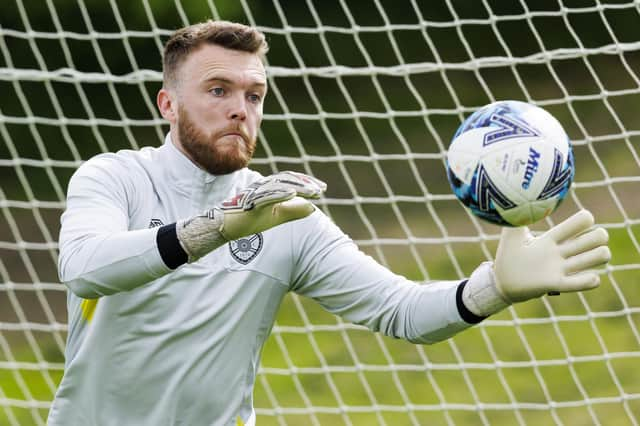 "When I joined the club I think one of the first games was a European trip and it was great," said goalkeeper Zander Clark, who at that stage of the season was still having to content himself with a place on the bench as Craig Gordon commanded the starting berth. "I experienced it at St Johnstone as well and these games and competitions are the ones you want to be involved in as players. It is great for the club and the players and their families, and the supporters as well. You can only judge by what you see when you are on the pitch and they are in the stands but it looks like a good away day! It is definitely something we want more of and it is down to us to try to bring that back to Tynecastle."
From December Clark has been an integral part of those ambitions. Stepping in to fill the void left by the injured Scotland No 1, the 30-year-old keeper aided Hearts climb up the table, into third, but was helpless as they were then reeled in and overtaken by Aberdeen. With three games remaining there is still an outside chance that they could recapture a top-three spot in the Premiership but they will need to defeat Aberdeen when Barry Robson's men travel to Tynecastle on Saturday. Lose and they will have to settle for a battle for fourth and the more convoluted and testing route to UEFA group involvement next term.
"It's a big game in terms of what we want to achieve as a club but every game is a massive game when you're at Hearts," continued Clark. "There are demands from within and outwith. In terms of where we want to be come the end of the season, it's a big game and one where we need to be right at it. We go into every game with the aim of winning it so there is no different approach. We are at home and we need to make sure we use that to our advantage, keep the ground entertained and as loud as we can to push us over the line. We know what we need to do to get to where we want to be. Saturday is down to us. We have trained well this week and we have a plan for how we want to go about the game. When the referee blows the whistle, it's up to the XI on the park to put into play what we practiced through the week."
And, after dropping two points, or, given the circumstances of Peter Haring's wrongful dismissal and the late, late spot-kick equaliser from Lawrence Shankland, salvaging one, Clark says there is still hope. "Football is a funny old game and things can change quickly," he added. "It's down to us to make sure we are right at it to give ourselves the best chance. But we still have that glimmer of hope and we need to make sure we are right up for it."