Gervane Kastaneer explains 'blessed' feeling as he rebuilds his career at Hearts
Not many international footballers are found starting a career rebuild in the humble surroundings of Somerset Park.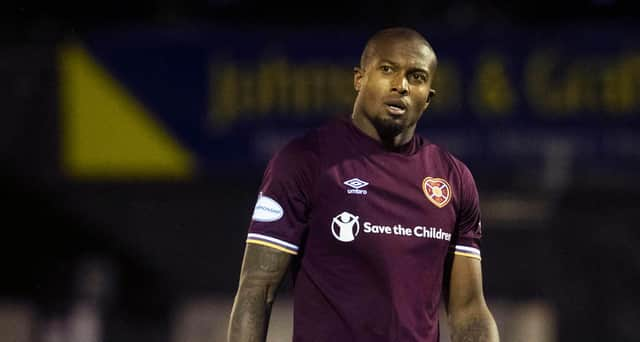 For Gervane Kastaneer, Coventry City's Curacao winger, Friday night in Ayr was the first step on what he hopes is the road to redemption.
He feels "blessed" being on loan at Hearts trying to win the Championship title after falling out of favour in the West Midlands. The message is that he wants to seize this opportunity.
His useful pace and direct approach were evident during a 24-minute substitute appearance in Ayrshire. Fellow Hearts debutant Aaron McEneff also looked hungry and energetic as Liam Boyce's second half-penalty earned Hearts a gritty 1-0 win.
"I want to show myself again because I didn't play for a long time. I want to get minutes and help the team. Hopefully at the end something nice happens. First of all I want to play as much as possible," explained the Dutch-born 24-year-old.
"Winning the title is 100 per cent what we have to do. Hopefully something nice happens for me as well, like with my reputation: 'He's still a good player, he's still got it,' instead of 'comme ci comme ca'."
Kastaneer joined Coventry in summer 2019 from NAC Breda on a three-year contract. This loan is his chance to show he can still become the player they paid for.
"A lot of things happened there. I came there to a new country and I had to adapt to the country, the playing style and everything. Very quickly I scored a goal after 30 seconds. That brings prssure on you directly. People are like: 'He is the guy.' So they were talking about me.
"In the next few games I got a red card. Then it went so fast. I don't know, maybe it's me. I could have done more, 100 per cent. It went like that and I have to accept it but I have to come back and show I can do it."
Coventry will monitor his progress. "For now, I have to go back when the season ends. I think they will look at me as well, how I progress here," he added.
The weekend's results leave Hearts 12 points clear again in their promotion push. Kastaneer isn't daunted by the physicality of Scotland's second tier.
"I am very blessed that they brought me here. I don't know how much they saw of me but I know it's not a lot. They still gave me a chance," he added.
"There were a lot of long balls on Friday but we won and that's the most important thing. It was not a game that made me scared. I like to be physical and this was a very physical team. In my head, I thought: 'I need to step up, win the duels and show my power.' It went well.
"I knew Dutch players who played here, Mark de Vries and Genero Zeefuik. I don't know the Scottish competition so well but I know Celtic, Rangers and Hearts are the biggest clubs.
"My father knew them better than me. He told me about the club. He said: 'It's massive, it's a great opportunity for you and you need to be very proud. You are very blessed that they are giving you a chance at this club.'"
A message from the Editor: Thank you for reading this article. We're more reliant on your support than ever as the shift in consumer habits brought about by Coronavirus impacts our advertisers. If you haven't already, please consider supporting our sports coverage with a digital sports subscription.