Ex-Hearts boss Craig Levein on Celtic bids for Aaron Hickey, his development and why he sees him as a midfielder
The teenage defender is one of the most sought after youngsters in Europe
Former Hearts boss Craig Levein has revealed the club "knocked back" various offers from Celtic for Aaron Hickey.
The teenage defender is in-demand around the UK and Europe with less than a year left on his contract.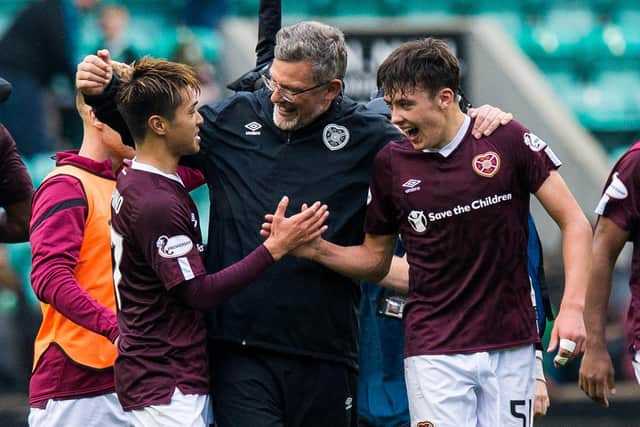 One of the other clubs reportedly interested in Hickey is Celtic.
The 18-year-old was on the books of the Scottish champions when he was younger before moving to Tynecastle.
Levein, who handed Hickey his debut in 2019, confirmed their attempts at re-signing him.
"There have been offers previously," he told BBC Sportsound. "Celtic tried to buy him back half-a-dozen times and that just got knocked back.
"There will be people who want to buy him, he's a good age.
"Ann decided we didn't want to sell him to Celtic for the offers that were made."
Levein is unsure of where Hickey will move to after trying to get him to sign a new Tynecastle deal for a number of months.
The player's father and agent will play a key part in his next step with the ex-Hearts manager keen for Hickey to move to a club where he would be able to continue his development playing first-team football.
On the playing side Levein is of the belief that the player could return to a midfield role where he had performed in the academy before a switch to full-back.
During the 2019/20 campaign he showed hos versatility playing in four different positions as he emerged as one of the few positives from the season. Despite being one of, if not the most inexperienced player in the squad, his maturity and bravery were also praised by former boss Daniel Stendel.
"He played because he was training so well, that was fairly simple," Levein said.
"I did watch all of the youth games and reserves games and he steadily improved from the period where he came back to us from Celtic. I think it was Andy Kirk who moved him from a central midfield position to a left or right full-back and he really just took off from there.
"He's got really good defensive qualities.
"Even myself had a little doubt about throwing him in at Celtic Park but he proved that he's more than capable of doing the job. He never seems to get flustered about anything. He's diligent, works extremely hard, he loves the competitive side of things and also likes defending, which is a rare thing these days.
"I'm not sure if he'll end up being a full-back, he might end up going back into the midfield area. I think he would be a fantastic holding midfield player with his great awareness of danger and his ability to get out of tight situations with the ball at his feet."