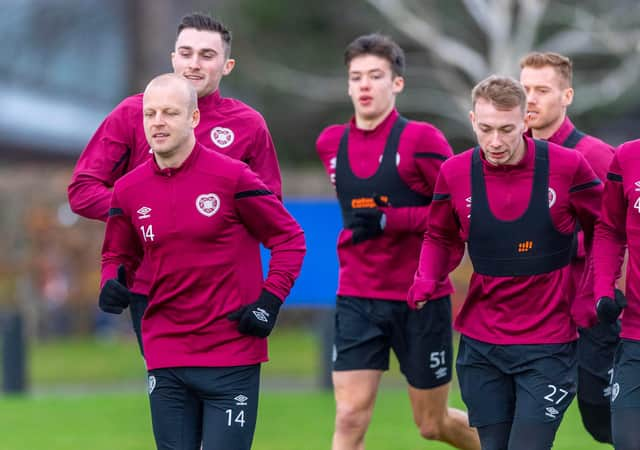 Hearts captain Steven Naismith has taken a 50 per cent pay cut, while others in the squad will drop between 10 and 30 per cent.
Hearts have agreed wage cuts with their entire playing squad – and no-one will suffer a double financial hit in the event of relegation.
Playing staff have all accepted a drop of between 10 and 30 per cent, with most already due for a 25 per cent cut if Hearts were to go down.
The Tynecastle owner Ann Budge made it clear when she first proposed reductions last month that the 25 per cent would be based on original wages and not the revised amounts.
Paperwork is now being finalised with players for the cuts to take immediate effect, with the coronavirus shutdown likely to last for many weeks and possibly months to come.
The Edinburgh club's relegation fate depends on if and how the Scottish Professional Football League decide to end the 2019/20 season, and whether any subsequent league reconstruction plan gets approved.
The vast majority of the Hearts squad had agreed to the temporary wage reductions by Monday's 5pm deadline rather than see contracts suspended whilst football remains in shutdown.
Two players took slightly more time to accept but Budge has now succeeded in her aim to get every member of the squad on board.
Some had asked for a portion of wages to be deferred rather than cut, however the Hearts owner wrote to every player and stated deferrals were "simply not an option".
The club's policy has been to issue contracts based on lucrative basic wages which are among the highest in Scotland. Incentives like bonuses make up a smaller fraction of players' money compared to many of their Premiership counterparts.
That leaves Hearts with a substantial salary bill which is impossible to service without income from matches during the shutdown. Budge is determined not to leave a legacy of debt when handing ownership to the fan-led group Foundation of Hearts.
She was adamant since first proposing cuts in mid-March that players would need to accept less money to help their club survive the financial crisis triggered by the global pandemic.
Captain Steven Naismith initially agreed to take a 50 per cent drop and manager Daniel Stendel is working without a wage.
The players' revised amounts will be in place until August unless football fixtures resume before then.