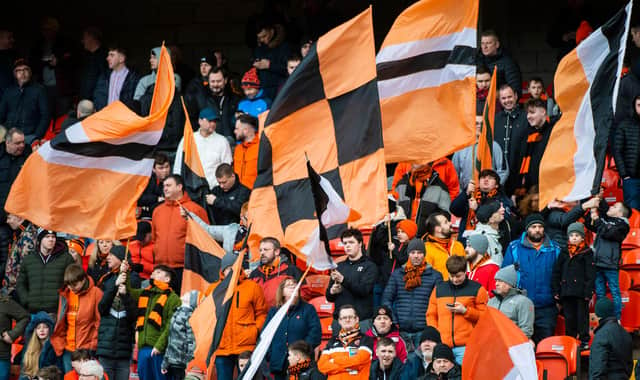 Two Dundee United fans are nearing the £10,000 mark through fundraising to help with the club's costs as part of the legal defence against Hearts and Partick Thistle.
Hearts and Thistle are looking to be reinstated into the Premiership and Championship respectively after being relegated following the resolution from the SPFL to terminate the 2019/20 season. Failing that, they are seeking compensation for a combined £10million.
Lord Alistair Clark QC referred the case to the Scottish FA's arbitration process at a court of session hearing which was held last week.
On Monday, Dundee United, Raith and Cove released a joint statement expressing their dismay at the legal costs to defend their position. They appealed to their fellow SPFL clubs to help them out, while noting they would hold a joint crowdfunding campaign.
In addition, they are set to be boosted by more than £10,000 from two United supporters who plan to walk from Tannadice to Tynecastle next week.
Paul McNicoll and Andy Crichton have already raised more than £8,500, far exceeding their £1,000 target, as they do their bit to help in a situation which they say the club is being "subjected to… through no fault of their own."
The pair have chosen Tynecastle as the destination over Partick Thistle's Firhill due to the fact it is closer, but it is a route which is still more than 55 miles and is expected to take at least 18 hours on foot.
"As all Dundee United fans will be aware our club is presently defending its rightful place at the top table of the SPFL," McNicoll wrote on the pair's fundraising page. "This is a place that was earned by winning Promotion from last season's Championship.
"What the club are now being subjected to, through no fault of their own, is proving to be an extremely costly episode and one that they could have done without.
"Could the club have pulled out of the arbitration process? Yes, possibly, but given what is at stake the club feel that to not defend their position, against the Heart of Midlothian and Partick Thistle petition, is simply not an option.
"As a result of this, Dundee United, along with Raith Rovers and Cove Rangers, have reached out to other fellow member clubs to support them in defending this action as it can potentially have grave consequences, not just for Dundee United, but for all member clubs.
"The club had suggested that they were intending running a crowdfunding page in order to raise some funds to help cover the costs of the Legal bills that they face but myself and Andy Crichton have decided that we will try our best to do our bit."