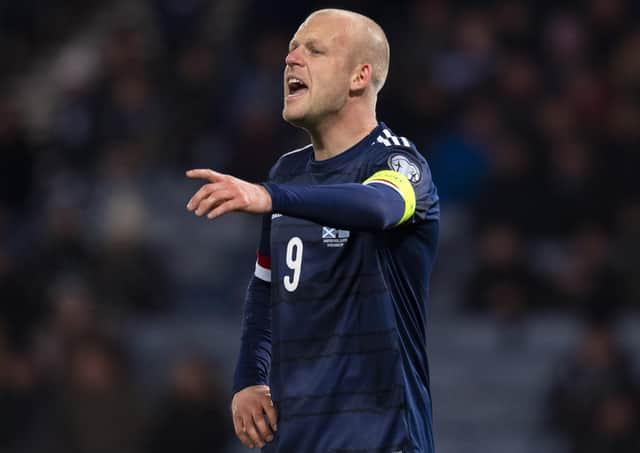 Steven Naismith's Scotland prospects could be hampered by the late start to the Championship season. Picture: Alan Harvey/SNS
Steve Clarke admits it will be "difficult" to pick Hearts pair Steven Naismith and John Souttar in his next Scotland squads with the Championship starting on 17 October.
Scotland are due to have played five games by then, including the play-off semi-final v Israel on 8 October.
Clarke is conscious that it is not yet certain when Hearts will begin their season with the Tynecastle club having lodged a joint petition with Partick Thistle at the Court of Session to have their relegation overturned or be given compensation.
Clarke hopes the situation is resolved "as soon as possible" and, while acknowledging the right of Hearts and Partick Thistle to go to court, Clarke believes there "was not time" to force through the various reconstruction scenarios which were proposed.
The short-term international futures of Naismith and Souttar now potentially hinge on the court's decision.
Clarke said: "It's going to be difficult to select them if they haven't been playing matches. I've learned quite quickly not to rule anyone in or out too soon. We'll wait and see what the situation is.
"Everyone's hoping the situation with Hearts is resolved as quickly as possible then I can have a conversation with Steven and John and find out where they're at and where they think they'll be come September/October."
Clarke is not against picking Championship players providing they are in good enough form. He picked Dundee United's Lawrence Shankland last season and handed him a starting place against San Marino, with the striker scoring in a 6-0 win.
Clarke suggested he would be more inclined to pick a goalscorer playing for a Championship side than a player from another position, since scoring goals relies on the same instinct whatever the level.
This is better news for Naismith, who has struck three times in his last six outings for Scotland, than it is for Souttar. The defender is still coming back from a long injury lay-off in any case.
"I don't have a problem if their own games are at a good level," said Clarke. "Last year I called Lawrence Shankland into the squad because he was scoring goals in the Championship. I feel with a goalscorer, if you give him a chance, he'll take it no matter what level he's playing at. Lawrence proved that when he came into the national set-up, he did well for us. You can't rule them out because they're playing in the Championship.
"It's probably more difficult [to pick them] if you've got someone who's playing at a higher level week in, week out and playing at the top of their form, say in the English Premier League.
"I'll use John Souttar as an example. If he's playing in the Scottish Championship at the top of his form you'd sway towards the player who's playing at the highest level because to come from the Championship to play international football might just catch him out as a one-off. Not that he's not a good player, but it might catch him out."