Daniel Stendel's future at Hearts addressed as Ann Budge admits costs will need to be reduced
All parties have had productive talks, with German keen to return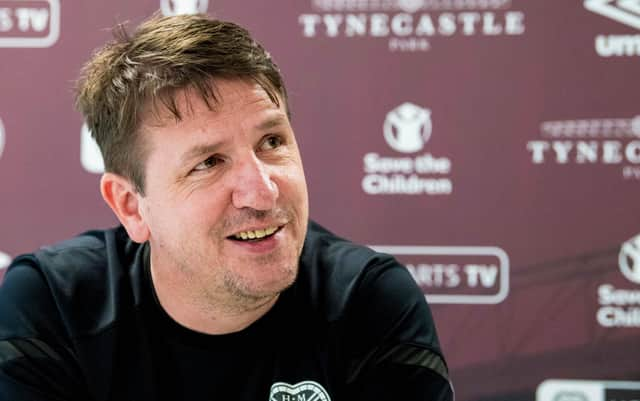 Daniel Stendel will have to consider reduced terms if he is to return as Hearts manager.
There was a clause in the German's former contract that effectively cut him loose should the Gorgie side slip out of the Premiership and, as it stands, a premature end to the 2019/20 league campaign has dumped them into the Championship.
Budge is still fighting that expulsion but, with so much uncertainty surrounding which league the Gorgie club will compete in next term and when the season will even get under way, club owner Budge has conceded that a tightening of the belts will be necessary.
But, she believes the German – who joined the club in December - is keen to return to Tynecastle.
"We speak once or twice a week and he is as frustrated as I am with all this," said Budge. "I feel for Daniel. He is in a very difficult situation and is technically out of contract. But we are still talking about the future. Daniel is telling me that he wants to be back here. He feels he has started something and wasn't given the opportunity to finish it, so he wants to come back.
"But I do have to take a view, depending on where we are, of what we can afford and when we are likely to get back, so that all has to be considered and I do need to talk to Daniel about what it would mean if he comes back."
That is likely to include a lower wage offer for the man who refused to take the final few months' salary while his players and staff were furloughed.
"That is certainly something I will have to talk to him about," admitted Budge. " As you know, he has been fantastic throughout this. I can't ask for any more than that. But I can't expect him to go on with no salary for the next six months if that is how long it is until we play again.
"It all depends on when we think we will be playing. It is difficult for him and he is frustrated, just as I am but we will need to talk again and more clarity about where and when we will be playing would be useful when we are having those talks.
"If we are in the Championship and not playing until January then, clearly, I will have to cut costs."
Keen to avoid redundancies, she said she will also have to look at the academy and hospitality as she looks to trim back out-goings.
"There is a fair bit of cost there and we have to decide what we can do there if it is going to be a while until the kids can come back. We also have got a lot of hospitality staff and if they can't get back for months [due to social distancing and closed-door games] then I have to look at that.
"There's some difficult decisions still to be made to see us through this. But it is hard to plan for that without knowing where we will be playing or when."