Conor Washington: Cup win over Rangers has to be turning point for Hearts
It turns out there is one domestic trophy Rangers remain in contention for. Along with Hearts, they are vying for the title of greatest imponderables.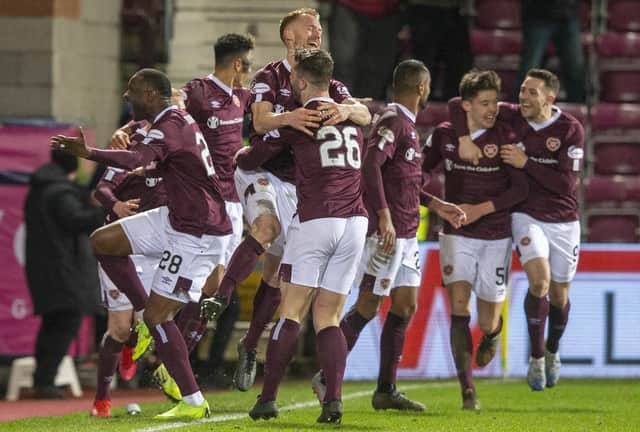 Jubilant Hearts players celebrate Oliver Bozanic's goal in Saturday night's Scottish Cup win over Rangers. Picture: Jeff Holmes/PA Wire
Steven Gerrard's side went from a quarry in Braga to a ditch in Gorgie. Tynecastle has proved ruinous to their ambitions of late. It's utterly mystifying how largely the same group of players can outplay one of the best sides in Portugal and then be beaten for the second time in a few short weeks by the bottom team in Scotland's top flight.
Gerrard said the buck stops with him but it was difficult to criticise his conduct on Saturday. Even at the end, when some claimed he had headed straight up the tunnel, he lingered to shake Daniel
Stendel's hand. Only when it became apparent the German was otherwise engaged as he understandably indulged in some extended celebrations with his staff did Gerrard depart the scene. The Ibrox manager was also quick to console stricken Hearts defender John Souttar as he was being stretchered from the pitch in the first half.
It's hard to take issue with his hard-line reaction to Alfredo Morelos' latest bout of ill-discipline either. Despite knowing it would leave him light in attacking options – Greg Stewart is a talented footballer, but, as was proved on Saturday, he's not a lone striker – Gerrard still dropped Morelos, pictured inset, from the squad. Did he regret the decision? It didn't sound like it on Saturday night when he delivered an absorbing post-match press conference in which he appeared to suggest he was considering his own future.
No wonder. He was supposed to be creating title challengers to Celtic and yet he's been left with a side he can barely recognise from one game to the next. His players are letting him down, including two of the backline which performed so well against Braga in midweek.
James Tavernier was wayward with a header and Allan McGregor slow to anticipate the danger. The excellent Lewis Moore rounded the stranded goalkeeper before cutting back for Oliver Bozanic, who gleefully tapped home the winner. Rangers could not summon a response worth mentioning.
Hearts are every bit as perplexing. They changed their way of playing to deal with Rangers and seemed more controlled as a consequence. Striker Conor Washington claimed the Ibrox side's style of playing out from the back suits Hearts. He expressed surprise they played this way again on Saturday after what happened on their last visit and in view of the inclement weather.
"The lads spoke about it before the game," he said. "The conditions were really tough. The wind was swirling and the pitch did not have a lot of grass on it. I don't know if you could see it but it was so fiery out there, the ball was just zipping off the surface.
"It was tough to play out so the manager and coaching staff decided we were going to play a certain way and it worked for us. Hopefully we can take this performance into the next few weeks."
This is the crux of it. It's all well and good Hearts heading to Hampden for a fourth successive semi-final but their position remains critical at the bottom of the league. They have to ensure they kick on, something they failed to do after their last win against Rangers. An appointment with Hibs at Easter Road tomorrow night will certainly help maintain focus.
"This has to be the turning point," said Washington. "We have said it so many times and it's so frustrating when we come off the pitch against the teams we keep losing to and you think: 'how do you go from beating Rangers at home to that?' But there's no other way about it – this has to be the turning points for us.
"We've got two big games coming up. We have Hibs and Motherwell and both of those teams will try and play a little bit more than the rest of the league."
Hearts' prospects have not been helped by a devastating Achilles injury sustained by John Souttar early in the first half. He is now expected to be out for the season, meaning he will miss the semi-final with Hibs and Hearts' attempt to fend off the threat of relegation. He is also out of Scotland's Euro 2020 semi-final play-off against Israel later this month. He has already missed a large chunk of this season following an ankle problem.
Washington endured a long spell on the sidelines earlier this season with a hamstring strain. He knows the mental toll this fresh setback is bound to take on Souttar.
As well as dedicating Saturday's win to the defender, he vowed, on behalf of his team-mates, to ensure he returns to a team that have preserved their top-flight status.
"It's a terrible blow for us, it really is," he said. "I knew how great a player John was even before I signed for Hearts. Then he came back from a long time out and played five or six games and he was magnificent in every match.
"Coming back from injury myself I realise how difficult it is for players to do that. Now he has another bout of rehab and we wish him all the best
"It is bittersweet," he added. "As players we dedicate that win over Rangers to John. He will be in the training ground every day doing his rehab.
"It's our job to try and keep his spirits up as he tries to get back as soon as possible. We don't need any additional motivation for the rest of the season."
Want to join the conversation? Please or to comment on this article.