Captivating Hearts star Liam Boyce's underestimations, owning performances and Euan Henderson qualities
In Liam Boyce, Hearts have a forward who is ready for the club's Premiership return.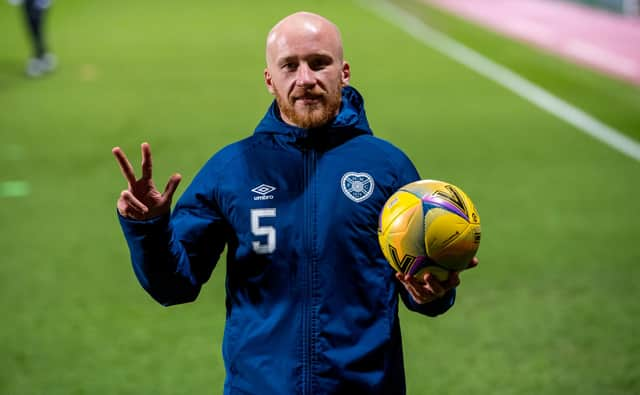 One area of the pitch less pressing than others is the forward area. Armand Gnanduillet has shown enough to suggest he is going to be a more than adequate striker and then there is Boyce.
The Northern Irish striker, who has 50 Premiership goals in 106 appearances, has been a captivating watch this season.
However, he was keen to share the adulation with particular praise for Henderson.
Creating space
"I think it's about six or seven [career hat-tricks], I'm not 100 per cent sure," Boyce, whose partner recently gave birth to son Ziggy, said.
"It was brilliant but I think more importantly it was a good performance.
"You kind of knew after ten minutes we were playing well and were solid at the back. I thought they were unbelievable and big Soapy after so long off I thought he was brilliant.
"Hendo is brilliant, you can see his pace and I think he needs to believe in himself a bit more. He's brilliant on the training pitch, he comes and asks you questions and advice and stuff.
"You saw with the penalty, he needs to believe in himself and you saw that, he was running and taking on people to win the penalty. It set him up and he got his goal in the end and he deserved it.
"Having someone with that pace and big Armand with that strength, it makes it easy for me. It leaves me more space."
Underestimated the Championship
The 30-year-old also acknowledged the standard of performance hasn't been good enough lately and understands fan frustration.
"At the start of the season we were flying and scoring six, fives and fours every week and you think it's easy," Boyce, who has a 20 goal target,said.
"When you come up against teams who are not doing so well they set up to defend. It's just the way it is and I think I underestimated it as well.
"There are high expectations and we know the fans always want more and they're totally within their right.
"As footballers we want more, when there are questions on the gaffer, it should be us that are questioned.
"It's us on the pitch with our performances and we know how hard the gaffer works and we went out there to prove a point."