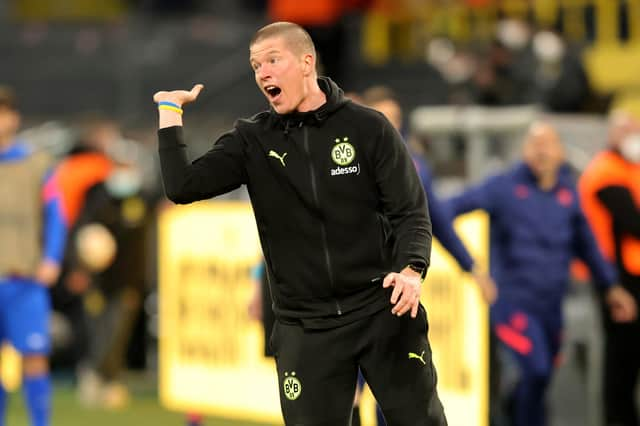 A once promising target man who was tipped to become a Denmark internationalist, Tullberg had to retire from football at the age of 26 due to injuries. He arrived at Hearts from Italian outfit Reggina as one of many foreign imports under then owner Vladimir Romanov and could be forgiven if he had wiped the whole 12 months in Edinburgh from his memory. He has done the complete opposite, though. Carving out a career as a respected young coach with Borussia Dortmund's Under-19s, he was back in the Scottish capital with his young BvB bucks against Hibs in the UEFA Youth League. A last-minute winner from Hendry Blank secured the Germans a place in the last 16 of the competition and Tullberg celebrated the goal wildly with his players and supporters. And afterwards, standing in the middle of the Easter Road pitch, he was more than happy to speak about his memories and fondness for the club on the other side of the city.
"I was injured a lot when I played here but I loved Edinburgh," Tullberg told The Scotsman. "I loved the gaffer, Csaba Laszlo. I have friends – Alison and Jim – they came to visit me at the hotel. They helped me and my wife back when I was playing here. I met a Scottish guy, a Hearts fan, on holiday who was sick. I got in contact with the family and he was in the stands today. So this is my second home. I love Scotland. I love the people here. Also the football, it is my type of football. I'm happy to be back – especially with a win.
"I had a lot of bad luck with injuries. I know the gaffer wanted to keep me [at the end of the 08/09 season] and I wanted to stay but, to be honest, I didn't have the body to play professional football. I did everything, but my body was not with me, so I became a coach. I was 25, 26. I was the youngest under-19s coach in the Bundesliga when I came to Dortmund. I'm happy about my life, I am happy about who I am. This is my fourth season with Dortmund. It's one of the biggest clubs in the world. They trust me, I'm happy with my job, I have my wife and two small children, two boys who are four and two. But it's also nice to be back. I told the guys, 'Edinburgh, the castle, Princes Street, Arthur's Seat, the people, it's still beautiful'. I love it. My wife also wanted to stay and we will definitely come back with the children. I remember when I came in, Hearts fans were like, 'Jambos No 9!'. I didn't play so much but it was nice to be here. I'm a big fan of Edinburgh and I love the mentality."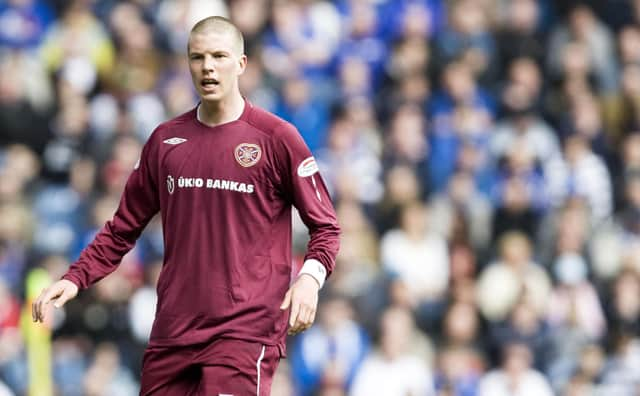 Tullberg still follows Hearts' fortunes. He was a team-mate of current head coach Robbie Neilson and praised the work he is doing and the general state of the club, which is much better that when he left it in the clutches of Romanov. "Robbie is my old team-mate, he is doing good," grinned the 37-year-old. "I've been following them for the last 14 years. I'm happy about it all. It's interesting that they are the only club in Europe where the fans own it, the biggest share. I follow everything."
Borussia Dortmund's Under-19s coach since 2020, Tullberg has already worked with some excellent players who have made the leap from youth to first-team level. His contract has been extended twice since he arrived at the Signal Iduna Park. He is rated highly by the German giants and is now in his 11th year of coaching. His players had to dig deep against Hibs, who more than matched them physically, but Dortmund's class shone through in the second period, with Hendry Blank scoring an excellent winner.
"Last year we made the last eight, the first time for the club," explained Tullberg. "We had a crazy team. Most of the guys can still play, but they are now in the first team. I am very proud of this particular group of players. This is not easy without the top players. We have a heart. I said to the guys before the game, 'I lived one year in Scotland and I promise you, they will not let you play, they will not have any respect for you, they will end up dying on the pitch if necessary'. This is Scotland and you need to be aware of them. I am proud of the attitude we have on the pitch because our players are a little bit different than the Scottish players. It was a fight, a 50/50, and I'm happy with the results."
When Blank scored his winner, Tullberg sprinted to his players and the healthy band of away fans to celebrate. "I had to stop playing football when I was mid 20s, so I never had these moments," he admitted. "I am missing ten years, so when I am in the coaching area, I am playing the game. We also had some under-17 players against Hibs – they are my kids. For us, these games are very special. It's only us and Frankfurt at the stage [from clubs in Germany]. We play in front of many fans in this great stadium and good atmosphere – well, maybe not that great because I am for Hearts!"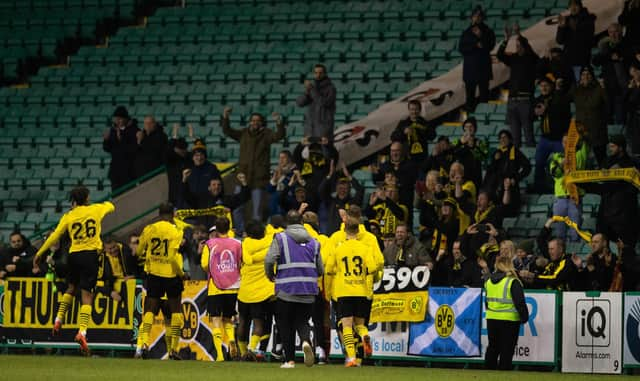 And with a handshake and a smile, Tullberg is off. Life as a coach is certainly treating him better than his playing days did.