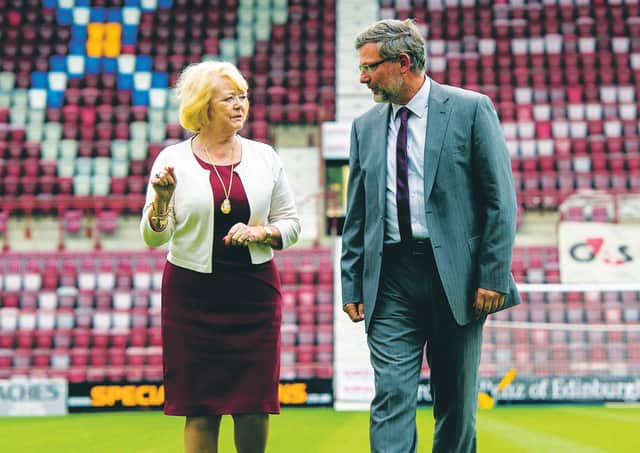 The wounds remain too raw at the moment but, in time, Ann Budge is hoping that the animosity towards one of the men who helped Hearts back on to their feet will dissipate.
With Craig Levein's contract due to expire today, the club's owner revealed that she is saddened by the way things have concluded but says she will always be grateful for his input during her time at the helm.
Although relieved of his dual role of director of football and first-team manager in October, the 55-year-old former Scotland boss continued to work in the background but he will now officially sever ties with the club he has served over three separate spells, as player, manager, twice, and director.
He is followed out the door by coach Austin MacPhee, who had also taken temporary charge on a couple of occasions – when Levein was recuperating from a heart attack in 2018 and prior to Daniel Stendel's appointment, in December.
"Regardless of feelings just now, it has not all been negative," Budge said of Levein's tenure. "Craig has been here as long as I have and we all know that when we took over, things were in a bad way.
"If you look at the academy and look at the performance school, while there are some things we have not done as well as we should have done, other things have been done really, really well.
"Throughout the club, Craig has been very important to me and both him and Austin have contributed and it was very, very sad the way it ended for both of them. But, especially, for Craig, we know what he has done. He helped us get back up and running again and even stepping into the manager's job at a very difficult time. People forget the start to last season."
An instantly-divisive figure, while many view him as a club legend, an element of the Hearts support was unhappy at his appointment as Budge's footballing right-hand man back in 2014 when Hearts were coming out of administration and preparing for a season in the Championship following relegation.
Serving initially as director of football, and installing Robbie Neilson, pictured inset, as head coach, Levein's new management team helped secure promotion at the first attempt, and with a considerable degree of flair. But Neilson's departure in 2016 saw that successful era followed by the failed tenure of Ian Cathro, which eventually led to Levein swapping a seat in the directors' box for a return to the dugout in August 2017, leaving him to guide his squad through the opening three and a half months of the season on the road while Tynecastle was out of action as a new main stand was being built.
The following season Levein's side were sitting atop the Premiership table after 12 rounds of fixtures, but an implosion part way through the season saw the Gorgie side eventually slump to sixth place.
Although hampered by injuries to key players, Levein managed to guide the team to cup semi finals and a Scottish Cup final, but fans became increasingly disillusioned by the league form and when Hearts found themselves stranded at the wrong end of the table this term, Budge eventually jettisoned him.
"Maybe it is normal when things have been so disappointing, but sometimes the good gets lost and that is sad," said the Hearts chairwoman. "I am not going to hide behind the injury situation because clearly it was more than that but they were a massive part of it. It was a bit of an uphill struggle for him.
"He got off to a flier but he wasn't helped by the fact that players were dropping like flies, to the point he was saying: 'no, no, no, you've got to be kidding me, not another one.'
"There is a lot of luck needed in all aspects of football, as there is in all walks of life and, for the latter part of his tenure, he didn't have any."
Describing MacPhee as an "ideas man" and claiming they both have too much to offer the game to be left on the sidelines for too long, she added: "Austin as well, he stepped in when we needed him and he brought new ways of thinking, new ideas, and with both of them, in time, I think people will look back and recognise their efforts and admit that it wasn't all bad.
"I know that not all the supporters will like me saying that but that is the way I see it. Most of the time, it worked for me and I do feel sad about the fact it had to end and I wish them both well."