Ann Budge reveals when she believes Hearts fans will be back inside Tynecastle
Whilst welcoming a new instant Covid 19 test trialled at Tynecastle Park, the Hearts owner Ann Budge is not convinced fans will be back inside stadiums for the start of next season.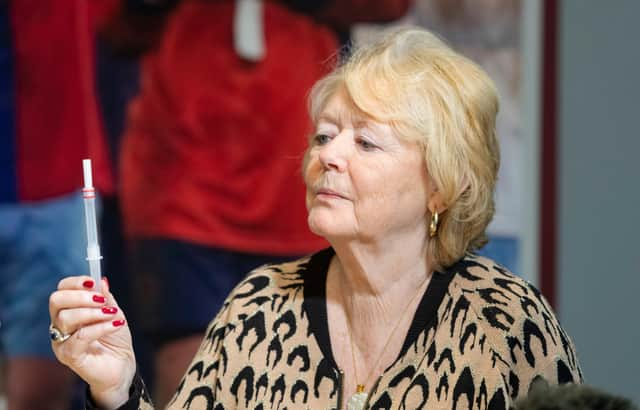 She believes it could be nearer 2022 before a phased return of supporters starts – and is planning for full capacities being another full season away.
Budge took part in a rapid antigen testing trial yesterday as BioSure tried out their new kit which could help get thousands of fans back inside stadiums, concert halls and theatres.
It works by testing saliva on the spot with results confirmed through a smartphone app within minutes. A negative outcome could act as a passport into crowded events and Hearts are keen to utilise the self-testing method if approval comes from government officials.
"I've been enthused by what I've seen. We agreed to do a pilot and it is so easy. I'm more impressed with the total process," said Budge. "The thing that was worrying me was how do you implement the test, in terms of the practicalities of getting thousands of people into an event?
"Seeing how far forward they are with the technology and the app, it opens up all sorts of possibilities with the caveat of it being approved.
"But I'm planning on a fairly pessimistic basis and I don't think we'll see the beginning of supporters coming back even in August, to be frank. Potentially two or three months later than that.
"I don't see full stadiums, potentially, any time next season unless there is a real change. Partial crowds aren't the answer. We would lose money.
Dire trouble
"I don't particularly want small numbers coming in for a game unless it is part of a trial – 'if you can cope with this, then we move on'.
"So it's not a question of getting a certain number back as quickly as possible, it's about having a pathway to plan sensibly. If we all had no supporters for the whole of next season then we would all be in dire trouble."
The BioSure antigen tests cost between £10 and £13.50 each in comparison to existing PCR tests currently used by football clubs, which can range from £60 upwards.
Should rapid testing be approved, the next discussion is who funds them. "The costs are significantly less than current testing costs," admitted Budge.
"We can't let anybody thing we're going to pay for the test for 20,000 people. That comes into the discussion on how we work with supporters to get them back.
"They haven't got unlimited spend. It's maybe quite straightforward to say it's just another cost of your Saturday: Instead of having a couple of pints, you have your test.
"That's got to be packaged so that nobody is seen to be taking advantage of supporters. I don't know how it would be funded. I'm having some conversations about that at the moment."
Tighten spending
Fan absence continues to hurt every club financially and Budge is preparing to tighten Hearts' spending. The Edinburgh club lost several million pounds in the last 12 months due to relegation and the global pandemic.
"I remember when we were going through the whole 'are Hearts going to be relegated' saga. My big worry was planning in case it was more than one season in the Championship. Might it be two or more? At that point I was quoting that relegation might cost us £3million," recalled Budge.
"What has been a saviour for a lot of businesses is the furlough scheme. We made some tough decisions right at the start of this, cut our cost base and managed that on a really tight basis.
"The furlough scheme, and the extension of that, is what has helped us through this last year and what will help us through the summer.
"I don't know if I can put a number on how much we've lost, but the previous year we had got our turnover up to around £15 million. This year it will be half of that and it's going to be loss. The objective becomes managing and containing that loss.
Payback
"The government support has been amazing, that's why we are surviving, but we all know we will need to pay that back.
"I think it will take a minimum of three years to get back to where we were before. It's not just going to be a case of one day: 'oh, everything is fine now.'
"At the moment, like everyone else, we have no hospitality business, no conference business – no any kind of business. If some of those things come back on board then it does help. I'm not saying it removes all problems, because it doesn't."
She expressed sympathy with other clubs also toiling to cope and predicted some may not last another 12 months without ticket income.
"I'm quite astonished that basically all the clubs are coping because I know how hard it must be for everyone. It can't go on forever," she said.
"A lot of it depends on the government approach, not just in terms of when they can get back, but how long can it support businesses in the way that they have? Because without that, I don't think a number of clubs would have survived.
"If this carries on much longer, supporters will find it harder and harder too. There was an underlying view around a year ago that not all clubs would survive this. That was a year ago.
"Everybody is managing to keep going but I believe the threat is still there, for sure. If this carried on for another season, I'm not sure how many clubs would be able to survive."
A message from the Editor: Thank you for reading this article. We're more reliant on your support than ever as the shift in consumer habits brought about by Coronavirus impacts our advertisers. If you haven't already, please consider supporting our sports coverage with a digital sports subscription.