Ann Budge plans to hand Hearts over to fans this summer as she explains spending shift and season ticket aims
Hearts chairwoman Ann Budge intends to hand ownership of the club to supporters in time for an anticipated Premiership return this summer.
She will transfer her 75.1 per cent shareholding to Foundation of Hearts, who will then own the club on behalf of fans. FoH have already repaid Budge the £2.5million she invested to gain control at Tynecastle Park in 2014.
The handover of shares was due to take place last year but was postponed at the onset of the Covid 19 pandemic. With Hearts 15 points clear at the top of the Championship table and heading towards automatic promotion, 73-year-old Budge does not want to wait much longer.
"We are working on it quite extensively at the moment," she said. "Last year, it made sense to put it on the back burner because we wanted to celebrate it when it happens. It comes back to when supporters will be able to attend football.
Nothing going on
"Unless we can be assured that will be early next season, then why are we waiting? Some supporters are suspicious at times. If things don't happen then there's almost a suspicion there is something going on.
"Well, there isn't anything going on other than a pandemic, but equally we have an agreement and that has been fulfilled. We are looking at the technicalities of what needs to happen now to just set a date for it to happen.
"I would like it to be in place for next season. One of the things I remember from when I bought the club were the issues of dealing with the takeover panel. That all needs ticked off to make sure everybody is happy so it is just a formality. I would like to think it can be done by next season."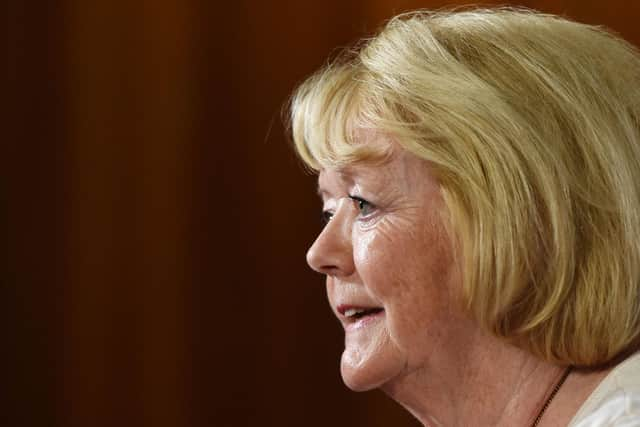 Budge would remain as chairwoman after the handover as the Foundation want a seamless transition to fan ownership. She is already drawing up financial plans for the next two seasons.
She reiterated her commitment that Hearts' 11,000-plus season-ticket holders will get 18 home games for the purchase they made last summer. The club will finish the campaign with 14 fixtures at Tynecastle, meaning a carry-over into next term.
Budge said she is determined to repay fans restricted to home viewing with matches currently behind closed doors. As such, season ticket sales for 2021/21 will be put off.
"I've said, 'don't even think about putting season tickets on sale until we absolutely have to'," explained Budge. "It certainly won't be any time soon.
"Let's look at how we can not only help the club but help supporters. We have to give something back to them over the next couple of seasons.
Disaster
"It's not about maximising income. That seems weird when we're desperate for income, but if we go about this the wrong way it will be a disaster. For the next couple of seasons it's going to be essential spend, minimising loss and just surviving.
"When we do put season tickets on sale, I've made commitments to supporters already: No supporter will lose out if we don't play all the games. We already have a carry-over for next season and I'll carry on with that. Any commitment we've already made will be honoured.
"That's why I'm saying it's going to be two or three seasons before we can begin to think the way we did before. It can't be: 'Supporters are desperate to come back, let's get season tickets out there.' That's not the right way of doing it."
Although wealthy in her own right, Budge fully understands many fans suffered loss of income because of Covid. "They will not have the same disposable income and we have to recognise that," she added.
"It has to be at the forefront of everything we do. It's about making whatever we do work for supporters, in terms of costs. We have an amazing supporter base and some could be in trouble. We need to bear that in mind and help them through the next couple of years."
Players remain a priority as Hearts prepare to streamline spending, although it is a difficult balancing act.
"We have very firm plans for the rest of this season so I know exactly where we're going to be. We haven't cut back on anything in the football department other than putting people on furlough to use Government schemes," said Budge.
"The Government cancelling football has, to a certain extent, saved us money. This year, I would say nothing has been impacted because we are a football club and that's got to be the priority.
Two-year plan
"We are all planning on being in the Premiership although it's absolutely not a given. Assuming that's the case, what do we need to do to be successful in the Premiership? Then what do we need the year after that? I'm trying to do a two-year detailed plan.
"We've got a lot of players out of contract and others coming through the academy. With no under-18s and so much football cancelled, how do we actually get them back on a true development plan?
"The football department will be impacted in the same way as the rest of the business to a certain extent, but it's still our priority. So I still need to do the budget on the basis of 'what do we need to be successful?' It's no use to us if we get promoted and then can't compete, so it will still be our No.1 priority."
Asked about this season's football performance, Budge responded: "I've been really frustrated over the last few weeks with my supporter's hat on. We want to be winning every game. We don't want to be fighting for a draw.
"I've been well warned over the years and I know how tough the Championship is. I knew from the beginning it wasn't going to be plain sailing. We're in a decent position. I would love it to be stronger, but there you go."
A message from the Editor: Thank you for reading this article. We're more reliant on your support than ever as the shift in consumer habits brought about by Coronavirus impacts our advertisers. If you haven't already, please consider supporting our sports coverage with a digital sports subscription.