Ann Budge announces 'alternative' season-ticket package for Hearts fans
Hearts owner Ann Budge has introduced an "alternative" season-ticket package as she asks for supporters to help lessen the financial burden on the Tynecastle club during the global pandemic.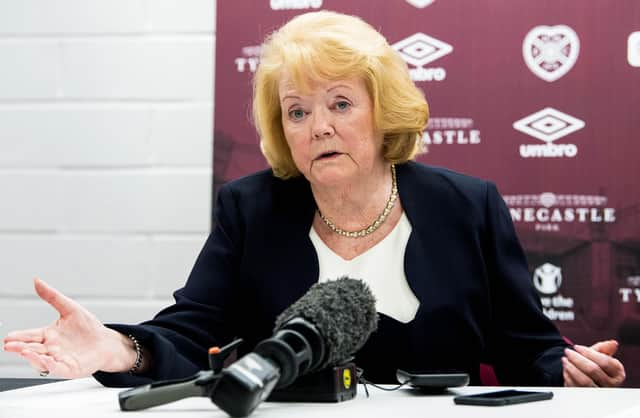 Hearts get their league season underway on Friday evening with a home match against Dundee, but no supporters will be in attendance with the Scottish Government still prohibiting the presence of spectators at live sporting events.
Over 11,000 fans paid for season tickets at the outset with the club promising that any of the 18 games missed would be added as credit to the following season.
However, the number of cases of Covid-19 has risen sharply in Scotland over the past few weeks and there are increasing fears that clubs won't be able to allow fans into grounds, at least not in high numbers, for the majority of the 2020/21 campaign.
In a statement, Budge insisted the club wanted to keep its promises to supporters, but asked fans to consider alternatives rather than having a full 18-game season-ticket roll into next campaign where the loss of income could be catastrophic for the club.
In the 'Alternative Season-Ticket Value Package' Jambos have been asked to consider turning an unused ticket into vouchers for live streaming, hospitality and retail. Full details of which were laid out on the Hearts website.
Budge wrote: "I will apologise for the delay in responding to those of you who have expressed concern and/or have complained about this over recent weeks. However, it was vital that we leave these decisions for as long as possible, given the continued uncertainties surrounding Scottish Football, in particular whether fans would be allowed back to games.
"Let me begin by stating unequivocally that we will honour the promise made when season tickets were put on sale. No season ticket holder will lose out. Season Ticket holders have paid for 18 Home games at Tynecastle Park and your season ticket will entitle you to 18 Home games. Clearly, any games that fall short this season for reasons totally outwith our control, will be credited to your account for next season. In the worse case scenario that could place an enormous burden on the club, which is why we have been trying to work out an alternative.
"As you all know, season ticket income is our main source of revenue and as such, simply rolling over this season's income to next would put a huge financial strain on the Club for next season. That said, we are hugely dependent upon the backing of our supporters and for that reason, if for no other, we would never go back on our promise. There are other reasons, of course, why we would never do this, not least a total commitment to honesty and integrity – two of my and our core values!
"Another core value, which I have always promoted, is openness and transparency and for that reason I will say, with complete openness, that we hope we can gain the support of the majority of our supporters to buy into our "Alternative Season Ticket Value Package". In simple terms, we want to spread "our financial pain" across this season and next by offering you ways to reduce your next season's credit, while ensuring that you get full value for the money you have already spent."
Message from Evening News Sport
You asked, we listened.
Hearts/Hibs fans can now subscribe to Evening News Sport stories ONLY with a brand new digital subscription option.
Get unlimited access to our expert football coverage for a whole year and, until midnight tonight, take advantage of a special 15% off voucher.
Comments
 0 comments
Want to join the conversation? Please or to comment on this article.