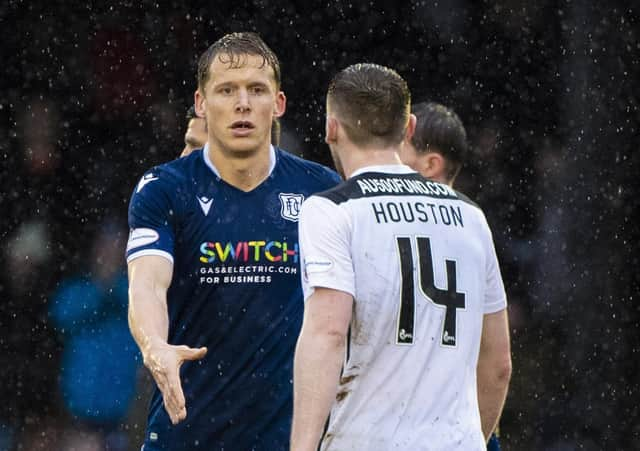 Christophe Berra was named man of the match in Dundee's 2-0 win over Ayr United on Tuesday night. This was only partly attributable to some Hearts fans being among a group of well-refreshed students in the hospitality area.
As part of an admirable initiative to promote student tickets, this group was allowed to pick the man of the match – with the player then obliged to come and speak to them afterwards.
Berra was one of several candidates as Dundee produced their best home performance of the season to extend their unbeaten run to six matches.
The defender's arrival has coincided with Dundee coming to within sight of a club record of seven consecutive clean sheets dating back to 1907-08. James McPake's side currently stand at five.
It is pleasing to observe Berra's rehabilitation after the way it ended for him at Hearts.
Playing on the left-side of a three-man defence, he won everything in the air against Ayr and presented a threat at every set piece. At one point, he even slalomed through a packed box like he was Jimmy Johnstone in what nearly led to a magnificent solo goal. No wonder he's been given the No 7 shirt by Dundee.
While acknowledging he's operating at a lower level than earlier this season, this mini-renaissance is proof that, despite the perception his performance levels had fallen off a cliff at Hearts, someone does not become a poor player overnight.